Umair Ali is a seven-year-child living in Sheikhupura. He sells Miswak (a crude tooth brush) at a petrol pump to support himself and his family. The child has seven siblings. His family has no permanent source of income. Now, a policeman is helping to send this Miswak seller to go to school for his education.
In the midst of a struggling life, Ali has received a sigh of relief. A recent meeting of this little Miswak seller with a policeman who has stepped out to send him to school has completely changed his life. He will now start his education by going to a local public school from September 30.
Khurram Shehzad alias 'SHO Dogar' of Housing Colony Police Station, Sheikhupura is a young police officer. He met Ali a few days ago at one of the petrol pumps in Sheikhupura.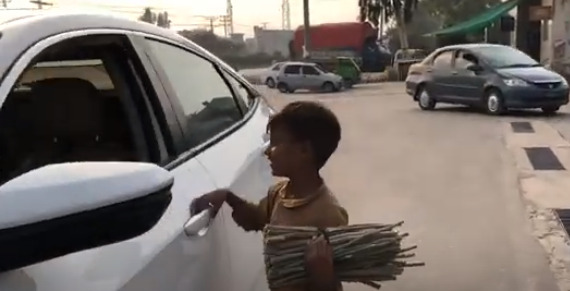 In an interview with Independent Urdu, Shehzad said, "When I saw this child, I thought that he should be in school and I am capable of enrolling at least one child in school. I talked to his parents and got him admitted to a nearby public school. Now he will go to school for the first time from September 30."
SHO Dogar keeps sharing stories of needy and hardworking individuals like Ali on social media. He also shared the story of Ali on his personal twitter account.
He said, "I dont know what will be the future of Ali. I am not sure if he will be able to continue his studies in the long run. However, I have started a positive wave among my fellow Pakistanis to help the children in need. Lets see how many people get inspired from this. Umair has secured his admission. He has also got his uniform. The school will now start from September 30."
I want to create a positive perception of police in our society: SHO Shehzad
According to the SHO, Pakistanis are very helpful people. A lot of people contact him when he shares stories on social media. The SHO never tried to never get involved in these matters directly. Rather, he lets the helpers directly contact the needy. Shahzad says the perception of the Pakistani police is very negative in our society. He wants to improve this impression of this police among the citizens of Pakistan.
"We also have feelings, we feel the pain of others and we also want to do good for the people in addition to the police job. Ever since I started doing good for the people through social media, the negative perception of the police in the area has changed a lot."
SHO Shehzad inspires Pakistanis all across the world
The story of Umair Ali has inspired Pakistanis all across the world. According to Independent Urdu, a Pakistani-American has also contacted Khurram Shehzad. He has offered to bear expensses of Ali's education.
It is evident that child labor is a serious issue in Pakistan. But people like SHO Khurram Shehzad are a glimmer of hope. Such empathetic and honest police officers can help change the fortune of several unprivileged individuals across the country by providing them with quality education.
What do you think of this story? Let us know in the comments section below.