Authorities used tear gas against activists of the May Day Committee who tried to make a public statement on holding a celebration at Istanbul's Taksim Square, despite a government ban on rallies at the location.
"Taksim Square is the May Day square," declared a conglomerate of trade unions – including the Confederation of Progressive Trade Unions (DISK) and the Confederation of Public Sector Trade Unions (KESK) – as security forces called on activists to host their May 1 event at Istiklal Street instead of Taksim Gezi Park.
As the May Day Committee attempted to announce its May 1 march, police prevented the group from reading out the statement and used tear gas on those gathered at the square.
DISK chairman Kani Beko later made a statement outside the Hill Hotel in Taksim, saying, "We will not give up in our determination to celebrate in Taksim. The European Court of Human Rights [ECHR] verdict should apply," referring to the 2012 ECHR ruling which allows rallies to be held at the square.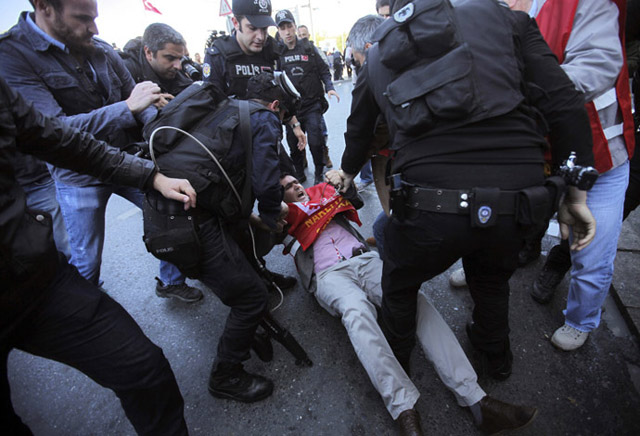 Beko also urged the release of detainees in his statement and reminded that peaceful rallies were held in 2010, 2011, and 2012, adding that authorities banned gatherings last year due to construction work at the site.
"But when we inspected the site, we determined that there was no problem for the May Day rally," Beko said.
Following clashes with police, Republican People's Party (CHP) Deputy Chairman Gürsel Tekin said it was important for unions to celebrate May 1 at Taksim, a traditional place of May Day celebrations.
"We are faced with a dictator who cannot tolerate a press statement. You will see that unions and civil society groups are not alone on May 1," Tekin said.
Last year, months of clashes with police left at least 11 people dead and more than 8,000 injured. What initially started as a peaceful protest against urban development for Istanbul's Taksim Gezi Park turned into violence as police proceeded with the eviction of a sit-in at the park, resulting in subsequent clashes with protesters.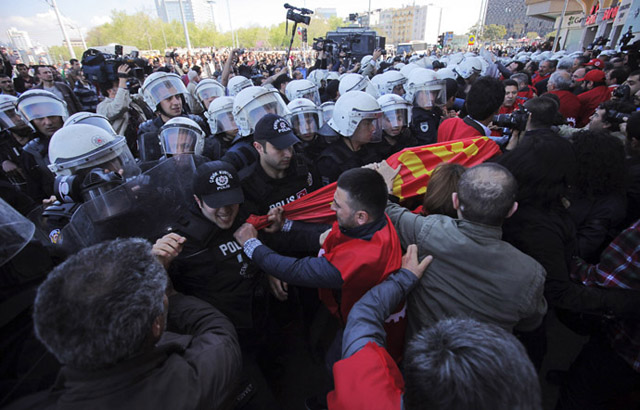 Published in RT, April 22nd, 2014.