It is a fact that Sindh police is always under criticism by the public for different reasons. They get criticism for corruption and abuse of power. We often think Sindh police has not played the role of a competent law enforcement organization. Recently, a brave cop of Karachi sacrificed his life to save the citizens from getting robbed.
Specifically in the context of street crimes in Karachi, we often blame the Sindh Police for their inefficiency. However, a rare incident recently occurred in Karachi where a brave police officer police illustrated that if needed, they can sacrifice their life for their fellow citizens.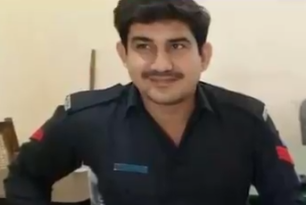 A head constable (HC) from Sindh Police by the name of Fayaz Khan sacrificed his life while protecting an individual from two dacoits. HC Fayaz Khan was in Karachi's Meena Bazar, Federal B Area for some personal work after duty.
According to a report by GNN, Khan saw two men trying to rob a young man who just took out cash from ATM. HC Khan confronted them. He got shot twice during the crossfire. Khan killed one of the dacoits and was able to save the victim. The Karachi cop sacrificed his life for the sake of saving citizens from getting robbed.
The nearby people in the market took Khan to the hospital. However, the brave cop could not sustain the wounds. He died as a result. According to the police, Khan has two sons and a daughter.
The officer was famous for his bravery and honesty. It's indeed tragic that Karachi has lost a sincere policeman.
Social media users praise HC Fayaz Khan's bravery
Many social media users in Pakistan were sad at the tragic demise of HC Khan. The users sincerely thanked the officer for performing his duty honestly despite the challenges. Below are some of the reactions.
Role of police in mitigating crime
It is not the first time that officers from Sindh police have put their life at risk to save a citizen. In October 2020, a robbery incident took place in Karachi's Federal B Area. Two street criminals riding on a motorcycle tried to rob a citizen who was sitting on his motorcycle.
Luckily for the citizen, police were on duty in that particular area. They caught the robbers red-handed.
In Karachi, the police do try to protect citizens from all perpetrators. Moreover, we also have to accept the fact that there has been a significant decrease in the crime rate in Karachi.
We should recognize the fact that the police need our cooperation. It's only through our coordination that street crime can be mitigated.
As a Pakistani, let us hope that our police will further improve upon their level of competency. Most importantly, we hope that they will be separate of all intrusion in performing their tasks.
What do you think of this story? Let us know in the comments section below!