In Karachi, lifting of bikes and cars from no-parking zones by the traffic police has been an area of significant concern now that recently a man gave a tough time to the police. Despite being consistently warned by the police for abstaining from parking vehicles in the no-parking zone, many citizens still park their cars and motorcycles in restricted areas.
Within the context of no-parking, a video of a man lying on the road while screaming at the police for lifting his bike parked in a no-parking area of Saddar in Karachi is doing rounds on social media.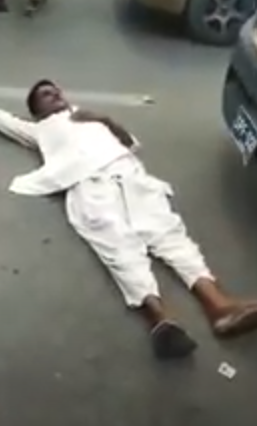 'I won't let them take my vehicle,' shouts the man
In the video, a man threatens the police that he would lie down on the road until and unless police release the vehicle. He was angry after the police lifted his motorcycle from an allegedly no-parking area.
The police asked him to pay a fine of Rs 200 and take his motorcycle. Instead of paying the fine, the man said I will lay down on the road but won't let you take my motorcycle.
While shouting at the police, the man said: "I won't let them take the motorcycle. Who do they think they are? I have just parked my motorcycle at the side of the street. I am telling them to stop. But they are not listening to me."
The video has went viral on social media. Many people condemned the person for threatening the police officer after he parked his car at a no-parking area.
It is evident that the lifting of cars and motorcycles is a big problem in Karachi. Instead of lifting vehicles, the traffic police should paste challans on their vehicles, as done in most of the countries around the world. Moreover, big signboards should be displayed in the no-parking zones so that vehicle owners don't park their vehicles in such areas.
Also Read: This Happens Only In Karachi – Poor Toyseller On A Bicycle Gets Challan For 'Motorbike'
What do you think of this story? Let us know in the comments section below!