Following a raid on Friday, police claims to arrest a group known as the 'burger gang' that was involved in house robberies in the affluent Karachi neighborhoods of DHA and Clifton, and other areas.
According to the police, the group they arrest is notorious by the name of 'burger gang'. A 'burger' in local jargon refers to a person with a privileged upbringing or lifestyle.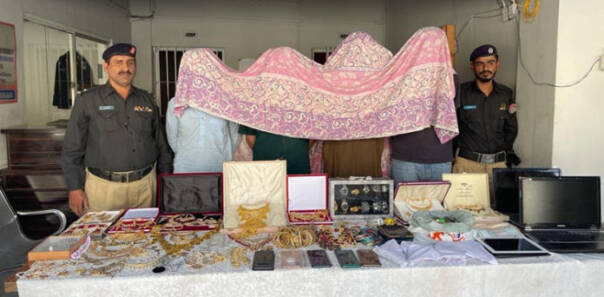 Owing to the increasing house robberies in DHA, Clifton, and some areas of East and Central districts, Gizri police arrested the gang's ringleader along with a car used by it, South SSP Zubair Nazeer Sheikh said.
The leader of the gang identified as Mohammad Shahid alias Boss. Besides the gang leader, the other held suspects identified as Mohammed Amir alias Jazu, Imran Jamil, and Mohammed Faisal alias Pakori. Arms and looted valuables were also seized from their custody.
During the initial probe, the gang members "confessed" to have committed several house robberies in DHA, Clifton, and other areas in East and Central districts, SSP Sheikh said. "The held suspects were also arrested by different police stations of Karachi several times [in the past] and were declared absconders by the courts," he revealed.
The suspects were habitual criminals and dozens of FIRs had been registered against them in South, East, and Central districts disclosed SSP Sheikh.
Two sets of gold ornaments, a box containing expensive watches, three laptops, two tablets, a pouch containing different prize bonds, one car, four guns, and other valuables were recovered from the suspects.
Operational leader maintains a 'high living standard'
Speaking to a local media outlet, the senior officer revealed that Mohammed Amir was the gang's "operational leader". Moreover, he ran a business in Dubai and had also shown himself as a businessman in Karachi.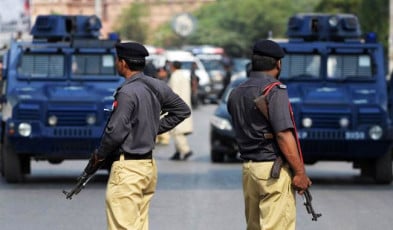 The officer termed him a high-profile criminal who had invested in property and other businesses. He also maintained a "high living standard", having told investigators that his monthly expenditure was Rs400,000.
The gang had been operating in DHA, Clifton, and other areas since 2005. However, Shahid alias Burger assumed its leadership in 2015, SSP Sheikh said. He added that the gang used to "randomly" select bungalows and commit robberies in the daytime.
In the Khushab district of Punjab last year, locals went through a chilling experience, when a gang of robbers erupted in a unique fashion. These robbers were not in an ordinary fix. Five members of the gang, half-naked, robbed five different houses in the same night.
Apparently, the robbers had put mustard oil on their bodies and taken their shirts off. The reason? Well, if the police or anyone else tries to catch them and get a hold of their bodies, their hands would slip because of the oil. Also, check out the 10 most shocking robberies in Pakistan.
What do you think of this story? Let us know in the comments section below.