The entire world remains unmoved from the past five years; the five years of the Syrian civil war that has killed more than 450, 000 people innocent people (including 45,000 children), injured millions of individuals and has displaced more than 11 million Syrians from their motherland.
Drenched in pain and helplessness, the war-torn children on Syria were pictured holding Pokémon photos, urging the world to come and catch them from this painful, horrific war.
Seeing how Pokémon Go is taking the world by storm and everyone seems invested in it (sadly), the Revolutionary Forces of Syria (RFS) started a social media campaign that shows Syrian children holding different pictures of Pokemons having an emotional message. The pictures were taken in the landmarks that were destroyed during the war activities.
The messages are written in Arabic and have different emotional meaning behind them. Besides every message, the location of the child is also embedded.
Written in Arabic, the messages roughly translate to "I am in Kafr Nabl. Come and catch me. I am a Pokémon present in Idlib Syria. Would you come to save me? Come find me in #Idlib countryside in Kafrnabol."
Following the campaign, people on Twitter started creating more awareness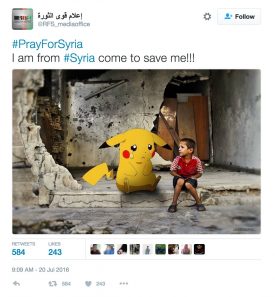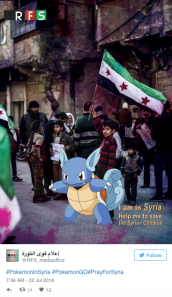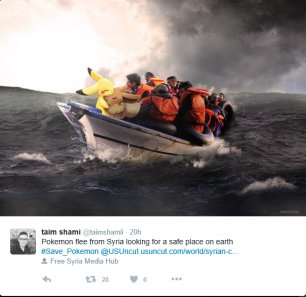 Saif Aldeen Tahhan, a Syrian Graphic designer, used the idea of this campaign and the game Pokémon Go to show the world what Syria is going through.
He made a number of images that carry the logo "Syria Go" and tries to highlight the impact of the civil war.
The images are extremely heartbreaking. These innocent children close their eyes every night, hoping to see the light of another day. While children from other parts of the world enjoy playing Pokémon Go, these kids used it to plea for help.