Addressing the United Nations General Assembly's (UNGA) 75th session. Prime Minister Imran Khan called India's Hindu-nationalist government a sponsor of hatred and prejudice against Islam. As the PM addressed that UN India is planning a misadventure, an Indian diplomat ran out of the session.
PM said Islamophobia prevails in India today. It also threatens the sovereignty of nearly 200 million Muslims who live there. Moreover, India denounces its moves to cement control of Muslim-majority Kashmir.
PM Imran highlighted these issues via a video link speech at the UNGA. The conference was held virtually due to the COVID-19 pandemic.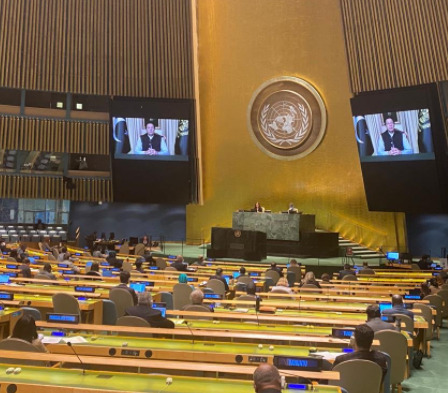 Khan said, "The one country in the world today where, I am sad to say, the state sponsors Islamophobia, is India. The reason behind this is RSS ideology that unfortunately rules India today."
Marginalization of human beings leads to radicalization
PM said India's Hindutva ideology has marginalized 300 million human beings that included Muslims, Christians, and Sikhs. He was of the view that it is unprecedented in history. It does not appear well for the future of India as the marginalization of humans leads to radicalization. The dream of creating a Hindu Rashtra has replaced the secularism of Gandhi and Nehru.
PM Khan also noted that in Assam, nearly two million Muslims faced discrimination. Moreover, many Muslims in India were living in large detention camps.
"Muslims were falsely blamed, vilified, and victimized for spreading the Coronavirus. They were denied medical attention on many occasions, their businesses were boycotted. Cow vigilantes attack and kill Muslims with impunity. Last February, Muslims faced targeted killings, with police complicity in New Delhi."
India has illegally occupied Jammu and Kashmir
PM said for more than 72 years, India had illegally occupied Jammu and Kashmir against the wishes of the Kashmiri people. This was a blatant violation of UN resolutions.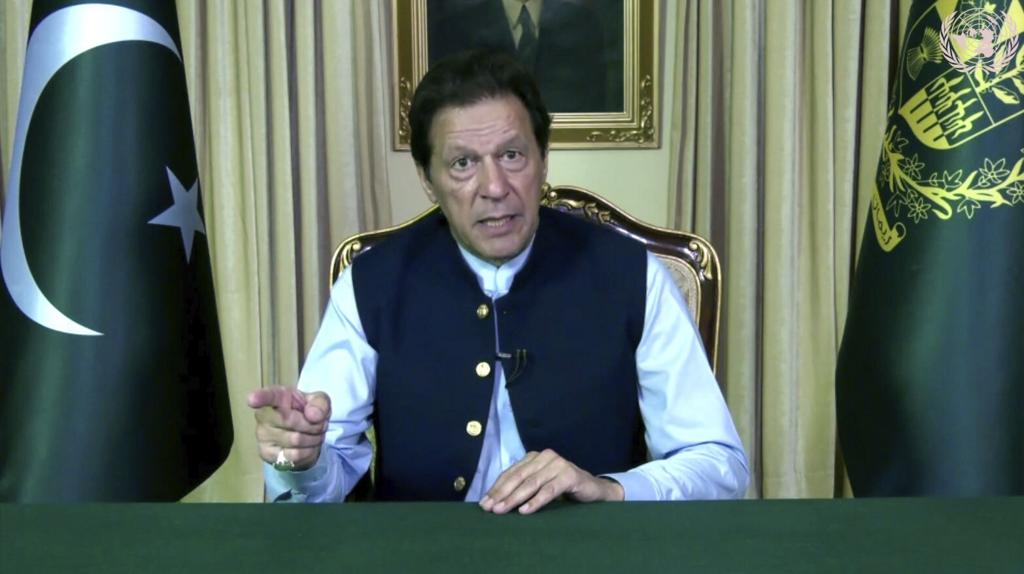 Khan said in August 2019, India had unilaterally sought to change the status of the occupied territories and had deployed additional troops. This resulted in bringing the overall number to 900,000. Thus resulting in a military siege on eight million Kashmiris.
Kashmir was rightly described as a 'nuclear flashpoint'. He said if there is no solution to the Jammu and Kashmir issue, there will be no peace and stability in South Asia.
Social media users are ecstatic at PM Imran Khan's social media speech in UNGA
The speech of PM Imran at UNGA was lauded by Pakistanis all across the world. He was praised for highlighting the Hindutva ideology and oppression of Kashmiri Muslims.
One of the Twitter users mocked the Indian diplomat for running away during PM Khan's speech when he expressed UN India is planning a misadventure.
Another Pakistani user praised Imran Khan for his brave speech.
A Pakistani felt proud of how the PM was able to represent the country at a global stage.
PM told the UN that the brave Kashmiri people would never submit to Indian occupation and oppression.
He said the government and people of Pakistan will support their Kashmiri brothers and sisters in their struggle for self-determination.
What do you think of this story? Let us know in the comments section below!