Twitter users in Pakistan were quick to notice on Monday that Prime Minister Imran Khan has unfollowed everyone on the micro-blogging website. They are not sure if it was intentional from PM or there was a technical glitch.
PM Khan had created his Twitter profile in March 2010. The premier is currently being followed by 12.9 million followers on the micro-blogging site.  
Prime minister had followed 19 user handles including journalist Hamid Mir, ex-wife Jemima Goldsmith.
To everyone's surprise, one of the most prominent individuals that PM Khan unfollowed was his first wife.
It is essential to note that even after divorcing her and marrying twice after that, PM Khan had continued to follow Jemima.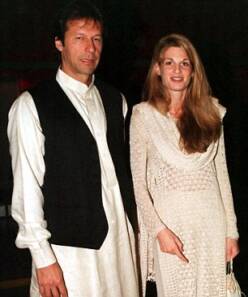 PM Khan's second wife was Reham Khan. However, the couple later filed for divorce in less than 10 months. Bushra Bibi is his third wife. PM married her six months before assuming office as the prime minister of Pakistan. 
The other handles followed by PM included organizations that he is heading such as the Pakistan Tehreek-i-Insaf, the Shaukat Khanum Memorial Hospital, and Namal Institute, Mianwali.
He also followed PTI leaders including Foreign Minister Shah Mahmood Qureshi, Education Minister Shafqat Mahmood, and Human Rights Minister Shireen Mazari. He also followed Asad Umar, Imran Ismail, Jahangir Khan Tareen, and the deceased Naeem-ul-Haque.
Netizens troll PM Imran Khan for unfollowing everyone
This new development, whether a glitch or an intentional act, has given a chance to Twitterati to enjoy. People are throwing all kinds of reactions, varying from showing serious concern to making sarcastic and hilarious comments.
PM has been trending on Twitter for the last few days. Earlier on Monday, he came under criticism for copyright infringement for posting some images of picturesque Gilgit-Baltistan (G-B) on Twitter without crediting the photographer.
Sharing a combo of pictures from his Twitter account, PM praised the fantastic natural scenic panorama of G-B with the onset of the winter season. Soon after PM Khan shared the pictures of G-B, the man who originally took those pictures noted the wrong.
Asmar Hussain, a photographer by profession, thanked PM for sharing his pictures on Twitter. But simultaneously, though in a sarcastic way, the photographer reminded the PM that his pictures had not been credited.
Twitter users across Pakistan were unhappy that PM Khan did not acknowledge the photographer for not giving him his due credit.
Even though it could be an error from PM Khan's social media team but they should be vigilant in the future!! It's easy. LOL!
What do you think of this story? Let us know in the comments section below!