Disclaimer*: The articles shared under 'Your Voice' section are sent to us by contributors and we neither confirm nor deny the authenticity of any facts stated below. Parhlo will not be liable for any false, inaccurate, inappropriate or incomplete information presented on the website. Read our disclaimer.
Most Pakistanis visit Northern areas to enjoy the best of their vacations and destinations. Without a doubt, northern areas are a part of heaven and we being Pakistanis, must promote our tourism so that many people from other countries also visit these areas as they are frequently doing it, nowadays.
But have you ever thought of making your destination route towards one of the beautiful province, "Baluchistan" too? Perhaps no! According to my research, 90% Pakistanis from upper Punjab and other areas never bother to discover Baluchistan because of few perceived reasons. Let's discuss those points and in the end, I would try my best to prove that these are wrongly perceived about Baluchistan.
Let's talk about "why not Baluchistan?"
They are much afraid of the term "terrorism" tagged with Baluchistan, unfortunately
They are not open about the "Vadera" system of Baluch there and is not welcomed in good manners as compared to northern areas
They think there's not much natural beauty as compared to northern areas
They think, in Baluchistan, every residence walks with a rifle AK-47
They shiver while thinking that there are no guidelines for this area
They believe, taking family tours to Baluchistan would be very risky
And there are for sure a lot of other reasons to be considered by people for not traveling to Baluchistan. Well, I would definitely be erasing all these fears of you.
Which route? Oh God, it's too far
Before talking about the positive image of Baluchistan and overcoming all those fears, let us discuss the route confusions. Many people don't want to go there because of long distance. For me, road traveling has always been the best option to enjoy, but you people can use air transport for your convenience. For this, you need nothing. Just get your ticket from any city of upper Punjab and land on "Quetta airport". But for those who are really crazy like me and in any case want to choose to travel by road, I am here attaching different routes from where you can start your journey.
The best by road travel advantage to Baluchistan is for "lower Punjab side" tribal areas because the borders of Baluchistan are too near. They just need a short drive of maximally 8 hours. But for upper Punjab areas, they need to travel a longer bit. Let's see some different accessible routes from different cities of Pakistan.
Note: So far, the best and safer by road route is considered via from "lower south Punjab". I would mark the map for you people in red for your convenience. Though, for upper Punjab travelers, it would take way longer than 8 hours.
One misconception about Baluchistan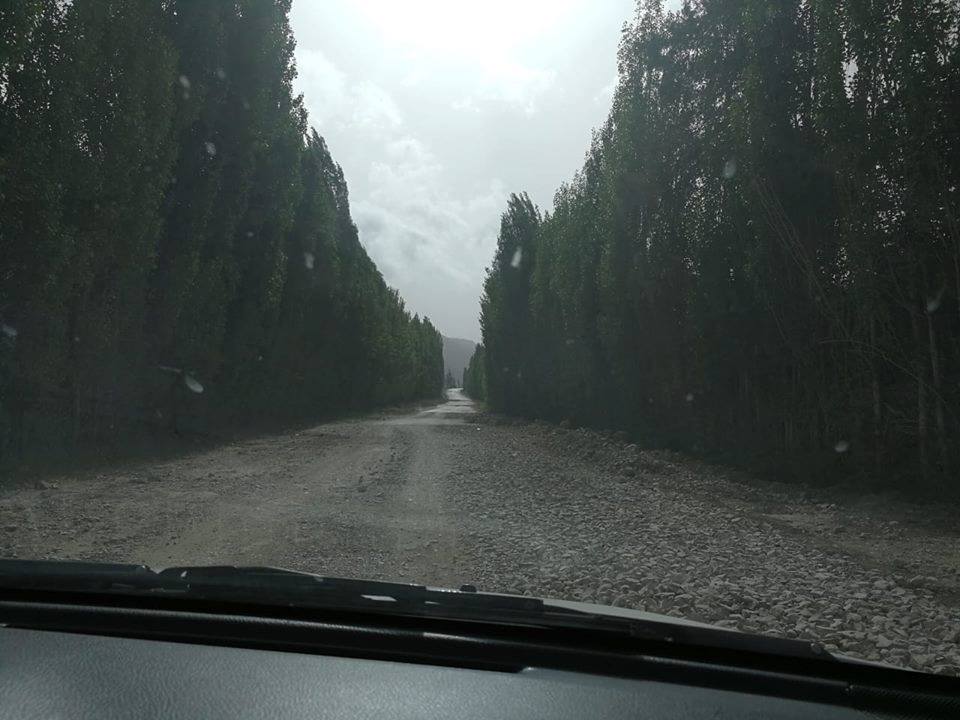 Let us talk about one general misconception of people about Baluchistan. Because the name itself depicts "Baluch" and "Istan" which means the "land of Baluch" but it's not true. There are not merely Baluch tribes living there. It generally consists of 52% Baluch, 36% Pashtuns and 12% Brahuis, Hazaras, Sindhis, Punjabis and other settlers such as the Uzbeks and Turkmens. But the funniest and real thing is that "Pashtuns" are seen more than Baluch. So, you would hear two languages the most; Baluchi and Pashto.
Which season is favorable to travel?
Mostly students, families, and friends like to travel when they have their summer vacations. But in contrast to northern areas, Baluchistan has a very different climate. Because of its climate change and temperatures concerns, it is considered one of the hottest provinces of Pakistan excluding its few spots like Quetta and Ziarat.
In addition to this, Baluchistan is also a deserted province. It lays in the southwestern region of the country. So, if you are looking for a favorable season to travel towards there then mark "middle" of the summer like in between "August to September" else the months are very hot to go there. Though winter is best to travel, but in winter, people don't find time to travel because of other busy schedules and their concerns.
If you are traveling shortly in between summer season then I am sharing a short list both for girls/boys without starting a long debate. You need to take these must-haves in your bags, if traveling towards Baluchistan;
For girls:
If you wear Hijab or Abaya like me, then I would strongly suggest not to wear Abaya because this region is all deserted and hot. There would be a lot of difficulties u may face while wearing Abaya. Instead of that, take your hijab and wear it like a "Chhadar".
Chhadar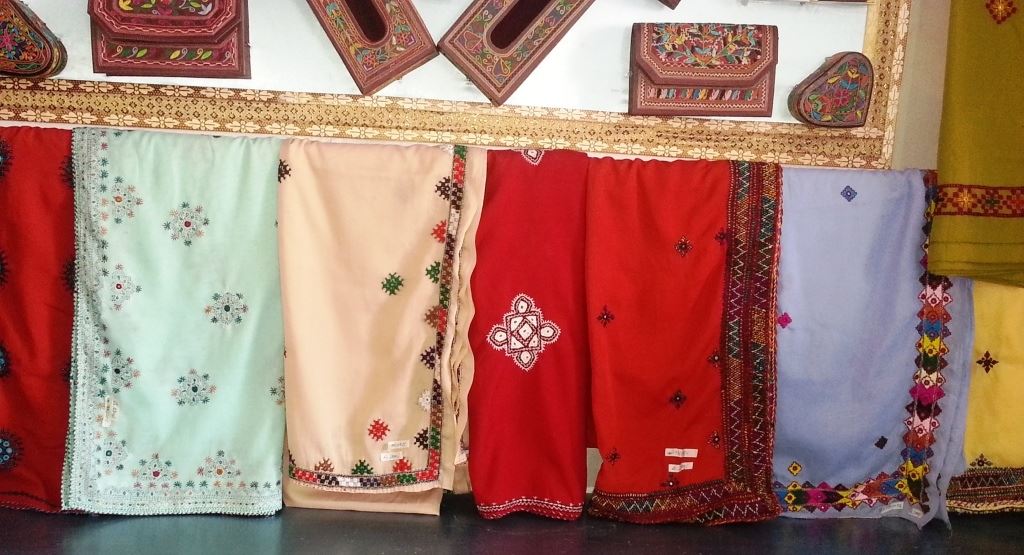 I am here attaching a beautiful Baluchi chaadar which you can take from there or can buy from any south Punjab markets. This would impact a good cultural repute to people there.
Take your shades/sunglasses
Sunblock
Flat shoes (but if you're much conscious about the beauty of your feet, then wear what you like as long as they don't heels
Water hand carry bottles
Wear lightweight clothes (which mean no Jackets)
For extra care, take a few winter clothes because it is amazing to share; Baluchistan weather changes abruptly and sometimes even in summer the weather becomes too cold
Girls/women must care about the head covers because, in Baluchistan, it's not considered nice if someone is seen with no Hijab or Dupatta and being Pakistanis, we must respect the culture
Always carry some eatables along with you because there are some areas and routes where you will find nothing
Powerbanks
Last but not least, there is no use of taking makeup products with you. Haha, I know it seems funny but true that. But still, you can take your makeups products, Habibi.
For boys
Try to wear "shalwar kameez" but not necessarily. If you do this, it would benefit in both displaying your culture as well as avoiding more heat while wearing thick jeans
Like I suggested above to girls, wear flat shoes or chapals, but you can use long boots as well because it is all deserted and rough
Shades/sunglasses
Sunblock
Water hand carry bottles
Eatables
Lightweight summer wear
Well, these were few must-haves and precautions. Else you can take according to the weather/cultural/environmental situations of this region which you would come to know step by step.
Are you traveling to Baluchistan? Oh, wow! But hang on, don't talk abouth these things EVER while being there…
Okay, guys so once you have decided to travel to Baluchistan and you have also decided the route too, keep following your map and the rest you can take guidance from the way walkers and residence of a specific area on the way. But always remember either you are on the way or coming near to your destination, never ever talk about any political or Islamic issue. You don't need to even argue with anyone about these topics. The reason is that Baluchi residents don't like to hear about arguments in these two controversial topics. They are more indulged and captivated into other issues like poverty, deprivation of their rights, weak politics, low economy and the issues of Azaad and occupied parts of Baluchistan. So instead of discussing politics or Islam, try to win their hearts by spending much time in their areas. Let them know with your good morale and affection that you love them. Hug their deprivations by telling them that yes, you are also part of Pakistan. Enhance and spread the message of tourism into Baluchistan. In this way, you can sustain peace in their minds and for sure, they would also respond in a polite manner.
Is it too dangerous to travel by road?
One of the most important questions asked by people; is it too dangerous to travel by road to Baluchistan? Umm…..I would not say "No" in hurry or in saving the repute of Baluchistan because I care about your fears too. Well, no doubt, Baluchistan has always been targeted by terrorists rather we come to know its condition is worse than other provinces. But I believe, we have become more responsible for it than a terrorist. Amazed? Let me tell you why I said so. Well, because we have left Baluchistan all alone.
Anyway, let's come to the point. Though the way is all deserted and rough, it's not impossible. If you know anyone from Baluchistan, then there should be a bit of peace in your mind. But if you are all strange and going for the first time, then there would be few difficulties but not dangers. The journey is very beautiful. You would come to see a lot of traditional and cultural sights on the way. Some routes are too rushy and crowded that you would not feel alone but few are too lonely that you need to fasten your car speed to avoid any risk. And the best thing is that when you start entering the region, you can drive your car at any speed.
There are no speed limits on the way. Keep shades in your car and no one would stop your car. There are checkpoints but there are at longer distances. You need to carry your car papers and identity cards which is a must. If you are with your family, the police/army would not bother you much. Police involvement in this region is much less but you would see everywhere the army and rangers even on checkpoints. The funniest thing is that; there is no traffic police. Haha!
Again, if you want less danger on road and avoid any risk, then use "southern Punjab route" as it is much much populated for help and guidance.