It's safe to say that even in 2019 a large chunk of the female majority of Pakistan has not joined the work-force. They face several hurdles that leave them incapable of becoming economically independent. In this patriarchal society where most of the households have men as the decision maker and earner, some tend to possess a regressive mentality; they do not allow their capable women to step outside of the house to earn. While in other cases it's the various levels of problems that a woman faces that hinders her progress; mostly pertaining to her safety.
We as a nation are well versed in how women face inappropriate advances on the street and during commute at the hands of drivers. This is one of the major reasons even the father's who have worked tirelessly to educate their daughters so they can become confident independent women with successful careers of their choice,  fear for their daughter's safety.
Surprisingly one project in Pakistan came up with a brilliant solution to the problems of both kind of women; the one that wants to earn but cannot due to some reason and the other that leaves the house but faces uncomfortable experiences with men during long commutes.
The Pink Rickshaw Initiative That Was Started By The Environment Protection Fund Laid Its First Implementation In The City Of Lahore.
This amazing facility hired women for women passengers. Nothing is more secure for a woman that needs to travel in Pakistan than a vehicle driven by trained and authorized female captains. Safe, secure and peaceful commute – Something every woman desires in this country.
This gave the opportunity to many women who aren't necessarily highly educated, a chance at a better secure future for them and their children.
Several inspiring stories of mothers came forward that stepped out to avail this opportunity to provide a better education for their children.
Yay! Much power to them.
Zar Aslam
4 mins ·
Closing 2018 on a high note! 4 more women in The Driving Seat! With the support of His Excellency @KoblerinPAK – Thank you from the bottom of my heart! My deepest gratitude to Motorway Police-Lahore for their support of the Pink Rickshaw Initiative-Thank you! pic.twitter.com/2diRn7DgzQ

— zar aslam (@zaraslam) December 28, 2018
Here's One Such Inspiring Boss Lady Or Boss Mom!
A man while on the road stumbled upon a rickshaw with a female driver and definitely amused and pleased to see her inquired her. She, in turn, told him her story. A story of a mother who works two jobs to make sure her four kids get a good quality education – a dream of all parents. Her husband works at a tire repair shop and she after her regular job, drives a rickshaw.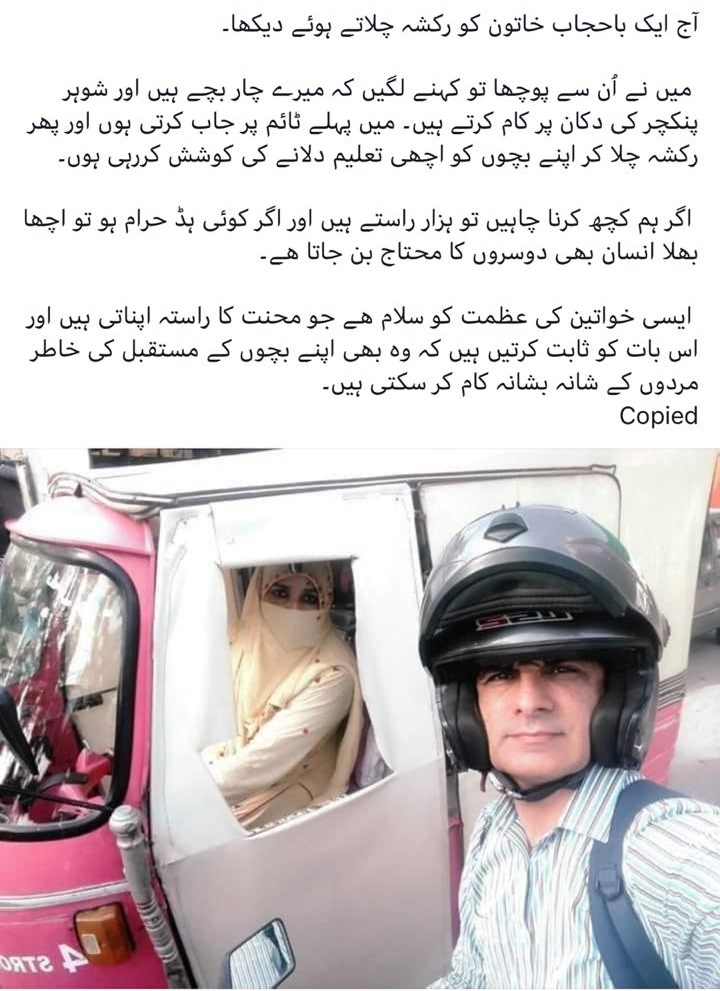 He was clearly in awe of her and shared great words of wisdom. He wrote people who truly want to change their lives do that with a copious amount of effort. However, those who are lazy but skilled and capable would rather depend on another.
We definitely need more initiatives like these as clearly women of our nation want to work and contribute but do not have the means and resources that would facilitate them.
Also See: Meet Amjad – A Rickshaw Driver Who Worked To Educate His 6 Daughters And Today One Of Them Goes To IBA!
Have anything to add to the story? Write in the comment section below!