Pakistan International Airlines (PIA) has been the center of attention for one reason or the other for the longest time. One embarrassing moment after the other, PIA seems to be attached to the phenomena in one way or the other. In the recent most incident, a PIA air hostess was caught red handed while shoplifting in France.
The embarrassing incidents of PIA have a vast range of variety, however, this has to be the most embarrassing incident yet. According to PIA sources, an air hostess named Afshan Khalid was caught stealing from a store on CCTV camera, which made the shopping center's security team catch her right on the spot.
The news comes as a huge disgrace to the national air carrier of Pakistan, along with the country itself. The air hostess was detained by French authorities for 5 hours before one of PIA's station managers paid for her bail and let her out. This is not the first time that PIA has caught international attention for one of its personnel's stupidity.
Previously, in August 2016, one PIA air hostess was caught with 2.5 kilograms of gold in her luggage while traveling to New York from Allama Iqbal International Airport Lahore. In another but similar case, one PIA air hostess was caught with drugs while she was in Italy and on duty. It seems that PIA is prone to such embarrassing incidents and does not pay much heed to such stories.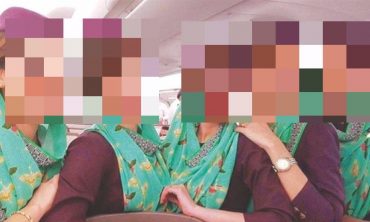 It is pertinent that the Pakistan International Airlines sets up a proper frame of check and balance for its crew and employees before hiring and keeps a thorough eye on what or what not they may be involved in. As for now, a national employee representing Pakistan committing a petty crime such as a shoplifting has surely disgraced the country internationally.
However, it is also pertinent to add here that we must not judge a whole nation based on one person's actions. Let us hope PIA takes care of the issue and launches a strong inquiry in the arrested air hostess's name.