Touheed Daudpota, the Pakistan International Airlines (PIA) crew, who recently went viral on social media after pictures were posted of him helping soothe a crying baby on a flight from Karachi to Islamabad has been honored by a United Nations (UN) body for his act of kindness.
The photos of the cabin crew manager on board were shared by singer and host Fakhr-e-Alam on Twitter sent to him by a friend. He said the crew member held the baby after the mother failed to stop him from crying. He walked up and down the aisle to soothe the crying baby until the baby fell asleep.
It is pertinent to mention that the kind gesture came as a surprise to the people. This is because the national carrier is often in news due to poor service and lack of management. Moreover, social media users sang praises of the flight attendant for days.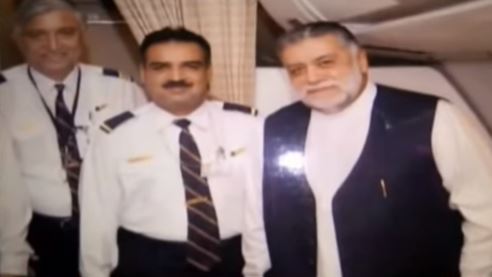 The steward has been declared the 'He for She' Champion by UN Women Pakistan — a branch of the UN that works for gender equality and women's empowerment. It honored him for displaying empathy, gender sensitivity, respect, and care to a woman passenger.
The official Twitter handle of the PIA also celebrated the news with audiences by sharing a snippet of the ceremony. "Upholding long traditions of 'Great People to Fly With,'" the caption cited.
In addition to this, pictures of the event went viral on social media after many social media users lauded the crew member for his act of kindness.
Here's our 'He for She' champion!
Well deserved! We hope the event works as an aspiration for the national flag carrier.
Earlier, speaking on a morning show, the PIA flight attendant said he had no idea that someone was taking his photo while he was helping a mother soothe her crying baby during a flight.
"Even I was not aware that my photo of calming an agitated baby gone viral on social media," said the PIA steward.
Daudpota added he cannot see any baby crying. "This is not the first time that I helped a mother soothe her crying baby. As a cabin crew this is my duty to take care of passengers," he said on the show.
Hats off to this brave, and kind man! It is only due to people like him who restore our faith in humanity in these dark times. In his interview previously, the PIA steward also revealed how he lost his 26-year-old son to a tragic incident.
Read More: WATCH: 'Angry' Asad Umar Storms Out Of PIA Plane After Another Passenger Occupies His Seat
What do you think of this story? Let us know in the comments section below.