The privileged society; the one which thinks they can run away with anything and everything, the society which thinks that it practically owns everything, even the authority of making rights and rules as per its standards. The society which may have their pockets filled with greens but have their souls empty are surrounded by their own shallowness. A society which deprives others of their rights because they think they have the ethical right of doing so.
Similar to this is what happened with this beautiful, lively Amna Raheel, a girl with an incurable genetic disorder called Muscular Dystrophy.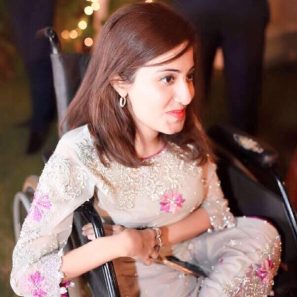 Pakistani specially-abled TEDx speaker Tanzila Khan once said, "When a physically challenged person is lifted up with a wheelchair because there is no other way to facilitate his mobility in the absence of a ramp, I cannot help but think: "What a beautiful way to hurt an individual's self-esteem."
Amna Raheel goes through the same emotion when a number of places in Karachi do not allow her to enter because of her wheelchair. Without giving any reason whatsoever, without even seeing how their property tampers due to the equipment, the use of a wheelchair is restricted in various public and private places in the city of lights. In explaining the troubles she goes through, this is what Amna shared in a video:
Amna is often told that a wheelchair is not allowed whenever she is taking a stroll in the park or visiting certain 'posh' areas in Karachi. Stating no reasons whatsoever, the authorities state that the wheelchair is "ruining" the mud-paved tracks.
As Amna mentioned in her video as well, it is beyond understanding why the authorities do not allow the use of a wheelchair on 'walking' tracks. Neither is a wheelchair causing any inconvenience to anyone around nor is it ruining the fields. It is about acknowledging the presence of someone without letting them feel they are different from others.
As stated earlier, the amount of money stuffed in your pocket doesn't define the heart or the feelings you have towards acceptance. What Amna tried to point out in this video is how she is discarded from the right she fully deserves. She deserves to spend some time with her friends in a park even if she cannot walk around with them. She, like every other wheelchair bound person, deserves the right of visiting their favorite places without their equipment being a restriction…without making them feel they are any different from others.
It is important to tolerate and accept people irrespective of their differences. To live in a society, we need to put ourselves in the shoes of others to feel their position.
Read Also: Abdul Mueed – Wheelchair Bound Entrepreneur Is Setting An Example For Everyone