Sports is love and cricket is the joy. Why should it be bounded for only a particular set of people in a region? There is absolutely no question why minorities are given equal rights as a vast majority in a country. After all, humanity disses all those claims of discrimination and there's nothing better than unity among people. It tethers our ties close and makes us a strong union.
Minorities in Pakistan have their rights. Although our minorities are handed their freedom but sometimes continue to face oppression. Yet, our Government and local people have made it sure that the minorities have an equal claim and have all rights to live their lives as they choose to. Similarly, how cool it would be if we could live as a union and they have a chance to feature in our leading sports? Peshawar Zalmi is up to something…
PSL Champions Peshawar Zalmi Hands The Sikh Community A Place In Their Official Squad For PSL 3!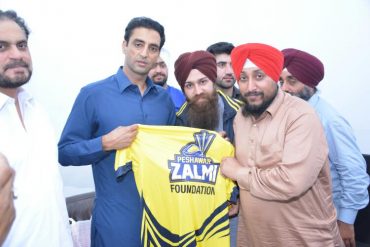 What a brilliant gesture by the reigning champions of Pakistan Super League. Their decision is superb and it would do great in the interest of promoting tolerance in our culture. Peshawar Zalmi has realised that they can also play a big part in our society, and such a decision is absolutely wonderful.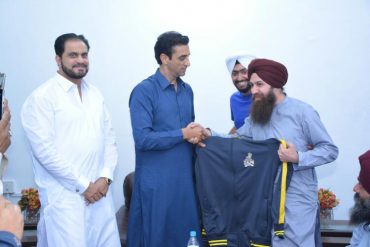 Zalmi head coach, Muhammad Akram visited Panja Sahib Gurdwara in Nankana Sahib and took part in their festival. The head coach gave away official Peshawar Zalmi kits to the community and was wholeheartedly welcomed by Mahinder Paul Singh, a famous Pakistani domestic cricketer. He announced Minority Talent Hunt Under Peshawar Zalmi Foundation in Peshawar and their region on behalf of Javed Afridi. He announced that 1 best player from a pool of 5 in the Minority Talent Hunt will feature in the official squad of Peshawar Zalmi in PSL 3!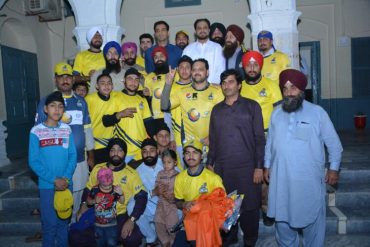 Here is the official word of Peshawar Zalmi: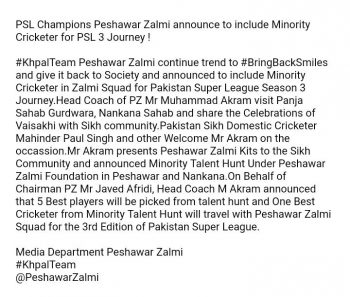 This is a great news for the Sikh community, while we are happy because this step would prove to be significant in our efforts of making Pakistan a better place for everyone to live. A moderate and tolerant society where people from all backgrounds and communities actively participate is really powerful. It coins for a better future prospect and we also set a brilliant reference for the world to see.
For now, we still cannot get over the bygone edition of PSL. We wish we could have it more. Let's just wait for the next year for it began once again!