Pervaiz Elahi, leader of the Punjab Muslim League-Q (PML-Q), who is also the Assembly Speaker, filed a complaint in a district court dealing with a brawl with pml-n leaders where he was injured. He filed a complaint at the provincial legislature contrary to his earlier position that "the courts could not intervene in assembly's business" in a legal battle with Deputy Speaker Sardar Dost Muhammad Mazari.
Elahi on Monday approached the district court, seeking registration of a first information report (FIR) against newly-elected Chief Minister of Punjab Hamza Shehbaz, his fifteen MPAs, and other officials in bureaucracy for allegedly attacking him and his party MPAs on April 16 during a clash between opposition and treasury benches lawmakers.
It may be recalled that when Deputy Speaker Mazari had moved to court challenging Speaker Elahi's notification through which his powers had been withdrawn, Elahi's counsel seemed to rely upon different citations with an argument that "the assembly's business could not be taken to courts and the courts could not intervene into assembly's business".
In a surprising move, Speaker Elahi told the court that Qilla Gujar Singh police were not registering FIR against the aforementioned accused who allegedly thrashed their male and female MPAs.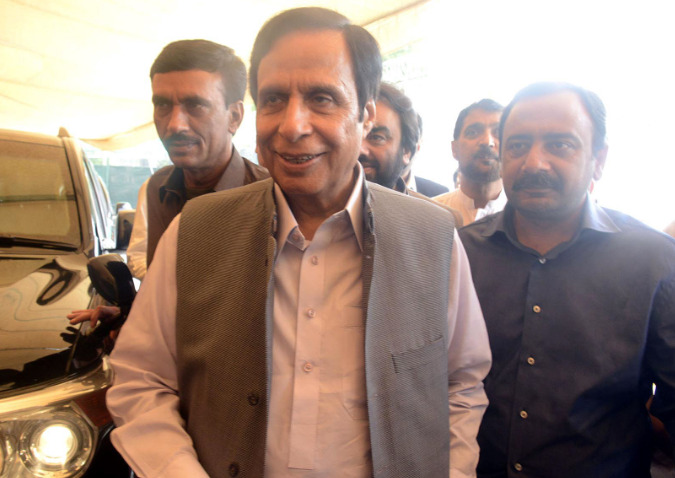 He went on to claim in his petition that during the election of the CM on April 16 around 200 to 300 armed police officials including officials in private uniforms entered the Punjab Assembly premises under the direction of PML-N's candidate Hamza Shehbaz, Inspector General Police (IGP) Punjab and the Chief Secretary.
According to the plea, PML-N's MPAs Rana Mashhood Khan, Jahangir Khanzada, and others with active connivance with Punjab Chief Secretary Kamran Afzal, Deputy Commissioner Umar Sher Chattha, and others attacked the petitioner and his MPAs leaving them injured. Their women MPAs also received injuries, he maintained.
Pervaiz Elahi curses PML-N leaders
After the scuffle when Elahi sustained injuries, he cursed his opponents saying that he would not forgive them till the "Day of Judgement". "I am making an appeal that Almighty Allah do justice to me… and make an example out of them," Elahi can be heard saying in a video that went viral on social media.
Referring to PML-N leaders, the provincial assembly speaker said he would not forgive them for "torturing and breaking his hand". He accused PML-N MPA Rana Mashood of attacking him in the assembly and threatening to kill him. "During their difficult times I helped them and would issue their production orders but they [PML-N leaders] have done this to me," he lamented.
The petitioner approached police station Qila Gujjar Singh for getting FIA registered against the aforesaid. However, the police did not bother to entertain his application, read the plea. He implored that the police officials are bound to register a case.
Read More: Female MLAs Go Wild In Punjab Assembly & Fight With Bare Hands
What do you think of this story? Let us know in the comments section below.