Ali Safina and Hina Altaf opened the third episode of Pepsi Battle of the Bands season 4. The two explained the hot new battle format to the audience that the 12 selected bands have been divided into two subgroups. The first 6 bands will play a one-on-one battle competition in the third episode and the remaining bands will battle it off in the next episode!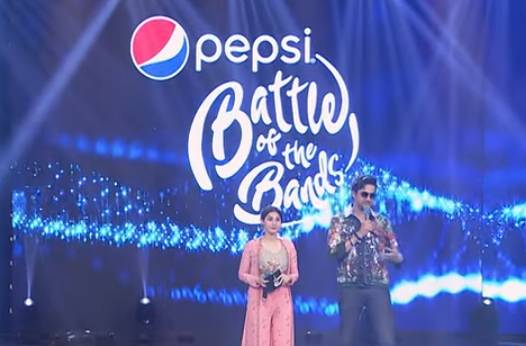 On the eve, Strings performed their latest album's new song "Chal Para" which celebrates the success of Pepsi Battle of the Bands' third season! After this motivating performance, which reminds us of Pakistan's old music, the journey to the new battle started!
In the very first round, the bands were to perform their original songs in the original format of Pepsi Battle of the Bands to promote the original music of Pakistan. Skehlaaj and E-Sharp were the first to face off each other.
E-Sharp performed the song "Awami Mulazim" with a "devil may care" attitude and thought-provoking lyrics. Skehlaaj performed "Motion" with some husky voices but the judges gave the decision in the favor of E-Sharp by pointing out the vocal limitations in the band Skehlaaj.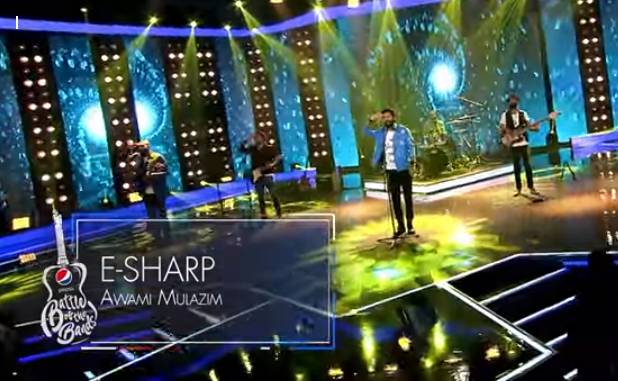 Mousiqa performed an original "Haddi Daal do" in their face-off with Neon whereas for Neon this was the first time performing in front of a live audience. Mousiqa did not hold back either and felt that they had set the stage on fire with their performance 'Dhoondun Kya'. The jury pointed out flaws in both the band's performances. Fawad Khan called out Mousiqa's for their weak lyrics along with some other flaws. The judges appreciated both performances but the eventual decision was made in favor of Neon and they marched on to the next round.
The last and most competitive face-off for the night was between Star Zone and Aarish which made things difficult for the judges. Star zone came up with a soulful performance "Taron ki Roshni" while Aarish performed "Awaz". Both performances were sublime but the judges had to choose one from amongst the two, and they chose Aarish.
Bilal Maqsood further gave a brand new Ibanez Guitar, signed by all the judges, to the best performer of the episode; which was E-Sharp.
Skehlaaj, Mousiqa and Star Zone all three lost their battles and were sent to the danger zone by the judges. Faisal Kapadia motivated the bands and asked them not to lose hope. However, towards the end of episode 3, the judge's collective decision was to save Star Zone.
Check out the full episode here!
For further updates, watch the remaining battle between the other 6 bands in the next episode of Pepsi Battle of the Bands. Are you excited to find out what's going to happen in the next episode? Let us know in the comments below!