Pepsi Battle of the Bands' finale is just around the corner. From a pool of exceptionally talented contestants, we are down to 2 bands that have taken the Pakistani fandom by storm!
Kashmir & Badnaam, two of the phenomenal contestants will go one-on-one in the last battle and we have every reason to be excited. The surreal rise of Kashmir & Badnaam is incredible and we absolutely cannot get over the performances they pull off week in, week out. So, who's getting your vote? Let's break it down…
Will it be Bilal Ali's heart throbbing vocals?
Or do you rather fancy the powerhouse of Ahmed Jilani?
And why not Vais Khan's guitar riffs? Well, he's been compared to Slash and Gary Moore by the judges!
What about Badnaam's Malang style that Pakistanis absolutely love…
Ahan. Don't you forget – Kashmir has bounced back from the danger zone every time… Quite competitive!
But, but, Badnaam has never been to the danger-zone
Okay, how can you forget Mera Pyar? You know a lot is more to come!!
Ah, it's old? Bismillah Karan is in town?
Okay, let's admit… Both are simply amazing and it's a tough call and the finale is going to be lit!
But there can only be 1 winner! So, are you #TeamBadnaam or #TeamKashmir? Voting starts today, 9th September!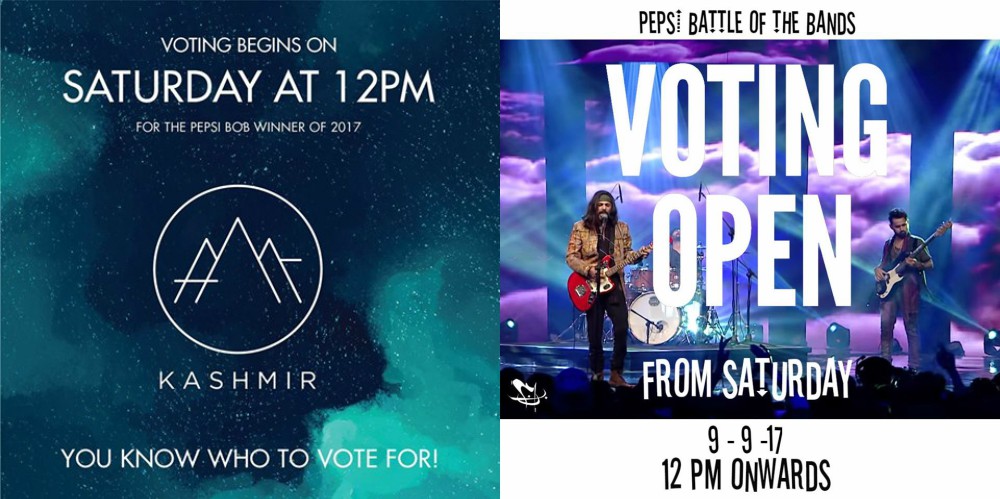 Here's you can vote: Voting starts on Saturday, that is today at 12 pm. I repeat today (Saturday) at 12 pm. If you support #Kashmir, type "K" or if Badnaam, then types "B" and send the SMS to 8462. Remember, you can also vote via Pepsi Battle of the Bands website.
Clear out your schedule on Sunday and mark your calendars because you don't want to miss the final between Kashmir and Badnaam in Pepsi Battle of the Bands.