— Donald J. Trump (@realDonaldTrump) July 13, 2015
Donald Trump has been under fire for his racist comments against Mexican immigrants calling them "drug dealers,""rapists" and saying that they "wreak havoc" on the US population. Mexico is currently amidst a violent drug war, at the centre of which lies Guzman's cartel.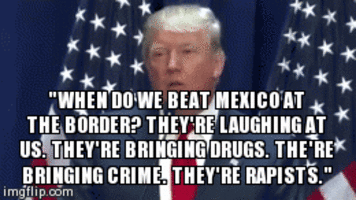 However, people are cracking jokes online, suggesting that Guzman has escaped to scare the real-estate mogul turned US politician who's refused to back down from his racist comments. He's since doubled down, saying that he will win "the Latino vote" in America.
After Donald Trump heard about El Chapo escaped he hired new Security detail pic.twitter.com/nvGc1nhnuv — Huggy Lowdown (@HuggyLowdownDC) July 12, 2015
El chapo escaped again ? He's gonna go after Donald trump

— Edson (@legorreta_edson) July 12, 2015
"@BlazeTheGreat_: Donald Trump after finding out el chapo escaped from prison again pic.twitter.com/KXOe8LxtUv"😂 — gemini.morettį. (@dearninaC4) July 12, 2015
#DonaldTrump after hearing #ElChapo escaped.. pic.twitter.com/9xAQvKjNg8

— ~K!NG~ (@BRANDONNNN13) July 12, 2015
Since El Chapo escaped he needs go after Donald Trump. Do every Mexican a favor man. — S.A. (@stephyarmani) July 12, 2015
Donald Trump face after hearing El Chapo escape from prison #El Chapo pic.twitter.com/6Sn8UB38sh

— Christian. H (@christianhaaaaa) July 12, 2015
Source: The Independent