A teenage boy Ammar fell from the third floor of Centaurus Mall in Islamabad. It is an alleged case of suicide and people are contemplating multiple theories about it ever since the news of it came out.
The CCTV footage leaked, people are coming up with all sort of theories about the incident, however, one girl took the responsibility to talk to the right people and find out the truth. After meeting them she shared this thought-provoking post on Facebook.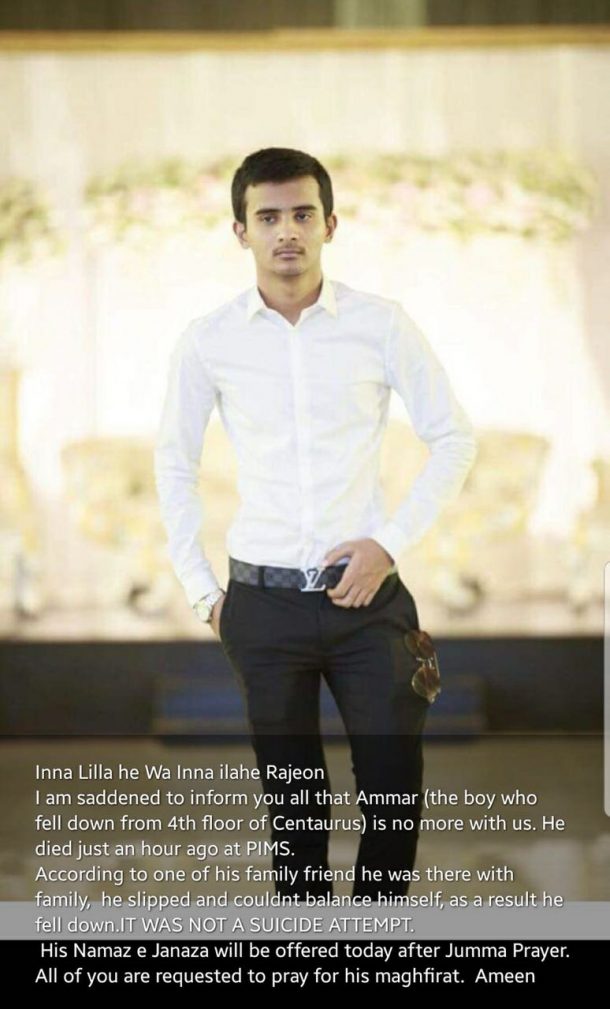 Centaurus is a high profile mall that has been visited by so many people around the capital witnessed the tragedy that shook many people to the core. Meanwhile, we should not ignore the aspect of mental illness and how gravely it causes people to indulge in things one would tremble to even comprehend.
On the other hand, there is much upheaval of people who simply cannot stop shaming the deceased and the family. People are insensitively condemning it, calling it haraam and expressing their resentment over it. In relation to this, we came across another post on Facebook where a girl explains exactly why nobody should shame the victim, it reads:
The incident that took place on Thursday 31st may around 6:30 when a young man Ammar ran to the escalator and jumped from the fourth-floor fracturing skull and his shoulder. Ammar was taken to PIMS, he was in a critical condition and passed away at 8 pm.

Dear Moral brigade of social media! Cut the victim and the family a slack! FOR THE SAKE OF GOD AND FAMILY'S SANITY!

Hold your *holier than thou fatwas of "Astaghfirullah" HARAM MAUT!* The family confirms that he had a psychiatric illness and was under psychotropic medication! The jinn possession is a cultural over-valued idea which Gives the patient and family face saving! So What!!!!! Let them be!!! Besides, it's deeply rooted in our culture!
I see 70 odd psychiatric patients with various disorders all starting with jinns, taweez, magic etc! Practicing psychiatry since 2007!

I never challenged them! I never snubbed them!

I treated them! That is the job & responsibility given to me by Allah Swt!

Let the Lord of Heavens & Universe decide his fate hereafter!

Keep the fatwas, moral brigades and "hawww hayyye" to yourselves!
Here is the original post:
It's easy to shame a victim and be ignorant. But we cannot simply rule out the fact that a boy lost his life due to mental illness and appallingly it prevails in the minds of people.
If you want to learn more about the subject, please have a look at the following video where we address the issue:
"Am I depressed?" Let's Talk with Sana Zehra

Posted by Parhlo on Thursday, November 17, 2016