A stretch of bad events kicked off the year. From global pandemic, airplane crashes, locust swarms to heavy rains, many wonder what the rest of the year has in the store for us. Amidst all the bad news, Pakistanis are delighted to see a girl, full of life, going viral on social media.
With the depressing hashtags trending on Twitter, to come across a positive one is truly a blessing! A recent video of a reporter of a local news channel interviewing a girl named Nimra Ali from Lahore has effortlessly become viral. In fact, so much so that the hashtag #Nimra is trending on Twitter.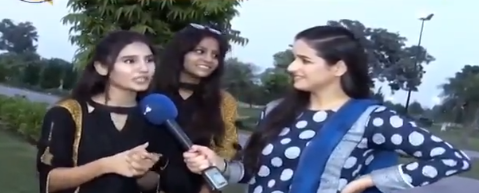 In the video, the reporter asks what Nimra happens to be doing there in university. Apparently, Nimra's cousin had come to stay over at her place and asked her to go somewhere for an 'outing'.
The girl says, "We thought of going to an outing. But then recently I saw a show on YouTube where reporters like you were in universities interviewing people."
"So when we were coming here, I thought to myself, I wish reporters come there as well so I appear on TV. And I am so happy, so happy to see you here!" Nimra added. Seeing the girl so full of excitement and energy, the reporter seemed to really enjoy interviewing her.
Nimra will definitely make your day!
You will be surprised to see how much this girl has to talk about. We are absolutely loving her energy! Moving on, Nimra shares how she came across another woman who too was a YouTuber and asked her to subscribe her channel. Nimra tells how she somehow managed to show half of her face in that woman's video.
Oh, wait… She does not stop there. She had another story to tell, but a funny one. Why don't you watch it out yourself and enjoy it!
People are absolutely loving her energy, and so are we! This Lahori girl is certainly like no other. One of the happiest, full of energy, delightful, energetic, and hilarious girl we have ever come across! She definitely proved that girls from Karachi can never beat Lahori girls.
The Twittersphere is going crazy over her
Some even appreciated the reporter for giving her freedom of speech!
On the other hand, some reminisce how they once used to be as joyful as Nimra
Aren't you all just loving her vibe? Such a high-spirited girl, full of vim and vigor! May she always be this lively.
For all our glum chums, chin up and find moments of joy in your day-to-day life. Anything as small as a specialty tea you treat yourself with!
What do you think of this story? Let us know in the comments section below.