Reshma Qureshi is one of the thousands of victims of acid abuse, is taking her story to the New York Fashion week. This 19-year old lady who has her entire face covered in scar tissue is the face of #EndAcidSale campaign.
Acid attacks on women are unfortunately not just common but a sad part of the South-Asian life. In a supremely male dominant society where women have no control or strength to retaliate, incidents like these are often heard of.
This campaign is being run by a New Dehli-based NGO called Make Love Not Scars. The campaign talks about how various issues including, how easy it is t purchase a bottle of acid and what the meaning of beauty truly is.
Reshma Qureshi acid attack survivor, who was burned by her sister's ex-husband for trying to save her sister, has been one of the few strong women who were able to pick up the pieces and put her life together. But countless women who are not so fortunate, go unnoticed and there is no strict implementation of law around this.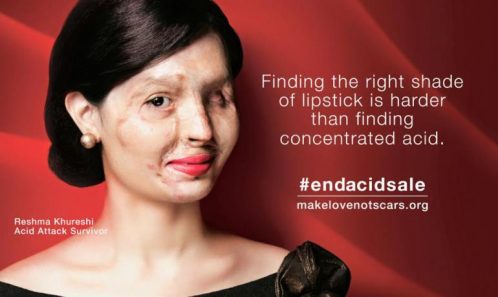 Acid Attack Statistics From Pakistan
According to a report by The New York Times, the number of acid attack victims are at an all time high in Pakistan and increasing every year. With just 65 incidents in 2010 there were 150 incidents in the year 2011 alone. Although, most of them don't get reported. The NYT  estimates that there around 450-750 of vitriolage every year.
What needs to be done
Not only do there need to be strict laws against those who throw acid but there should also be some compensation for the victim. Job opportunities should also be provided to these women who have been subject to such abuse.
People from all over the world chimed in on Twitter for her support
Reshma Qureshi is more than a survivor. She is a warrior as well as all the survivors! #endacidsale #stopacidattacks https://t.co/T9Z8XkekUJ

— Robert J Howard (@RobertJHoward) August 27, 2016
Refreshing news for acid attack victim Reshma Bano Qureshi. pic.twitter.com/aEMtXyeeje

— Kiran Kumar S (@KiranKS) September 3, 2016
I cannot help but sing James Blunt's You're Beautiful. Good work there guys. https://t.co/ZulKUHpBkX

— Mohak (@Mohacked) August 28, 2016
Let us know your thoughts about this!