Once again, it is raining doppelgangers in Pakistan! We brought you Ranvir Singh and Imran Abbas from Pakistan and now we present you, Anushka Sharma.
I remember my grandma once telling me that we have at least 7 look-alikes present in the whole world. I do not know how true it is but the way these doppelgangers emerging from every corner in this country is quite a strange fact.
This trend of doppelgangers started from last year has triumphed the Internet and people are going crazy after it. Many celebrity look-alikes were shot to fame, thanks to people on the Internet for getting them viral.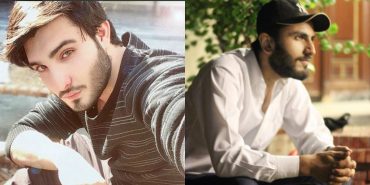 After the Imran Abbas doppelganger from Peshawar, we thought that the emergence of these doppelgangers will halt. But no way, it has started once again. Quite an observation of people for spotting them out in public.
So, we another person who resembles none other than the well talented and sexiest actress from Bollywood, Anushka Sharma.
HAVE A LOOK YOURSELF…
DAYUM
How can there be so many doppelgangers around us, particularly in Pakistan? It is uncanny…
Well, in case you were wondering that who else finds this girl resembling in Anushka Sharma, let us tell you that so far social media has had a major meltdown just regarding this.
People are going gaga after this random girl; see how they react!
@AnushkaSharma .your copy found in Pakistan, that girl at the back in red . pic.twitter.com/N4Mwb2KTYL

— AMJAD ALI (@BalochAmjad) February 22, 2017
@AnushkaSharma what were u doing in pakistan game show lol ?? pic.twitter.com/IKB8cNQdbj

— Asif Hamidاصف حميد (@hasaf79) February 22, 2017
@AnushkaSharma in pakistan pic.twitter.com/r26ftjvTMd

— Fahad Hussain (@fahdu0070) February 21, 2017
Anushka Sharma in Jeeto Pakistan
Indians will say it's photoshopped #Amoo pic.twitter.com/PhnnL2oPfQ

— Umar_Azeez (@chocolaty_amoo) February 20, 2017
@AnushkaSharma Duplicate Of you in @FawadMustasa show#JeetoPakistan #Miracle
Love to see you in #Pakistan pic.twitter.com/rzjhfysJcD

— Saqib Niazi (@sakniazi7) February 20, 2017
HAHAHAHAHAHA lmao Anushka Sharma in jeeto pakistan. pic.twitter.com/uddWxO1jzT

— Hassam (@iHassamayy_) February 20, 2017
Anushka Sharma in Jeeto Pakistan. pic.twitter.com/TaDO7W7UMm

— Niaz (@_Screenager) February 21, 2017
What is next for the girl? A modeling contract? Well, she is getting popular and we have another in the list of doppelgangers emerging from Pakistan.
What do you guys think about it? Does the girl resemble in Anushka Sharma at all?