Wow! What a series, pure dominancy by the Australian side over the English visitors and white-washed them in Ashes 2022 series. Although the last match was drawn, still it's a four-match win for the Australian side, and the way the lads have performed truly wins the heart.
But the skipper Pat Cummins wins more heart for what he did during the Ashes-winning celebration for Usman Khawaja. His leadership qualities are on full display over the internet because the way he showed his small but outstanding gestures sent a lot of messages to the world.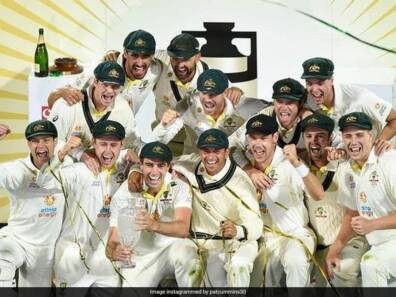 It's a tradition for the Australian cricket side to celebrate with champagne and live the moment. But this time Pat Cummins changed the trend for some time, as he wanted Usman Khawaja to also appear in the winning photo session of the team before everyone starts pouring champagne in the air.
Soon this video spread all over the internet, it went viral and people appreciated his brilliant leadership skills.
Pat Cummins showing great gesture towards Usman Khwaja
For this pure gesture, the Australian captain expressed his feelings. He said, "Usman is obviously Muslim, so he doesn't like the champagne being thrown," Cummins, who also finished as the highest wicket-taker in the series victory over England, told reporters.
"I just made sure he got up there and no champagne was thrown."
"We've got a diverse bunch of people and you want to celebrate that, you want to make sure everyone feels comfortable being themselves. That was just one moment," Cummins told reporters on Monday.
"The boys are fantastic in that space. They always look after each other. It's a tight-knit group.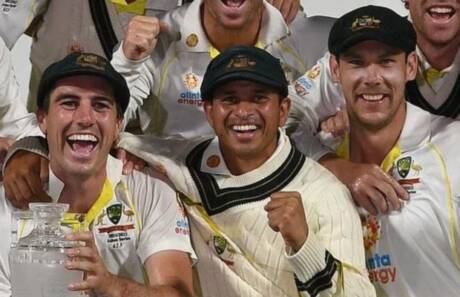 "I think one of the reasons is there is a lot of respect and love for each other. We had to make sure our teammate was in the photo with us.
"Playing his first test in 2-1/2 years, Khawaja smashed a hundred in each innings of the fourth match in Sydney batting in the middle order.
No doubt, his debut as a captain after the exit of Tim Paine was truly exceptional. He impressively led his boys and they didn't disappoint him.
On this gesture, Usman Khawaja also tweeted some kind words. He wrote, "If this video doesn't show you that the boys have my back, I don't know what will," wrote Khawaja.
"They stopped their normal champagne celebrations so I could rejoin. Inclusivity in the game and our values as a sport are so important. I feel like we are trending in the right direction."
Usman Khwaja played the last two matches, in his return at SCG he nailed it with his marvelous hundred in front of his crowd.
Netizens react to Cummins classy gesture
As soon as the video spread all over the internet within hours people shared their reactions, people have gone crazy, and shows that Cummins truly won everyone's heart.
One of the users wrote, "Pat Cummins realizes Usman Khawaja had to step aside because of the alcohol spraying celebrations, asks his other teammates to put the drinks away and calls Khawaja back over to the center of the victory photo to celebrate. This was nice."
Former Pakistani fast bowler Umer Gul also shared his words for Cummins. He wrote, "Good leader always looks after the team as a whole and respects everyone equally and @patcummins30 has shown to be that leader."
Everyone knows Australian players love to celebrate with the champagne and that can be seen in the T20 World Cup when they won the finals and did their traditional or say signature 'Shoey Celebration.'
What do you think of the story? Tell us in the comments section below.