Over 150,000 pilgrims are expected to attend the largest Hindu pilgrimage in Pakistan, an annual festival at the cave temple of Hinglaj Mata in Balochistan, which is being held after a gap of two years due to the coronavirus pandemic, a Hindu lawmaker said.
The festival began on Friday and will conclude on Sunday (today) after three days of high priests chanting mantras and beseeching Hindu gods to accept the offerings of the devotees and bestow them with peace and prosperity.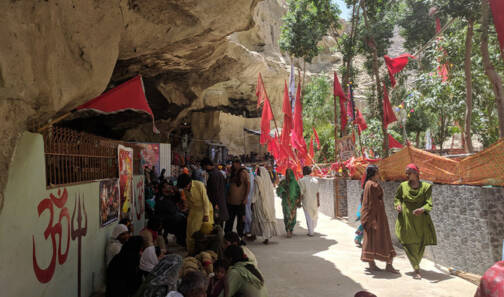 According to Hindu mythology, Lord Vishnu cut up the dead body of Sati into 50 pieces, which fell to the earth. Her head, it is said, fell at Hinglaj and it has since been the site for a revered pilgrimage.
Pilgrims arrive from all over Pakistan, adorned in decorative red and gold headscarves and saffron headbands, displaying the holy colors of Hinglaj Mata.  
"The Hinglaj-Yatra is being held this year after a gap of two years due to coronavirus but with improved arrangements and security," said Senator Danesh Kumar Palyani, a former advisor to the Balochistan chief minister on religious minorities and interfaith harmony.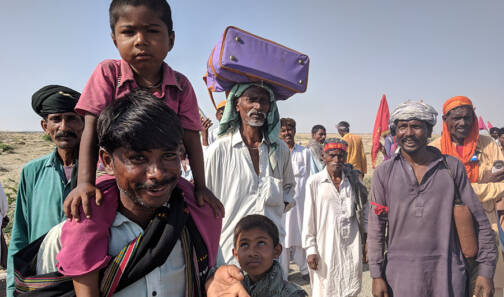 In the last two years, Palyani said, around twelve people would visit the temple to perform the annual rituals.
Shri Ram Nath Maharaj, the caretaker of Panchmukhi Hanuman Mandir and member of the Hinglaj Mata committee, said though yatra (pilgrimage) of the historic Hinglaj Mata continues around the year and attracts thousands, including from abroad, the annual event is very important.
Tirtha Yatra
"This annual festival, which is usually held in April, is called Tirtha Yatra and is significant to us as is Hajj important to Muslims," Maharaj told Arab News.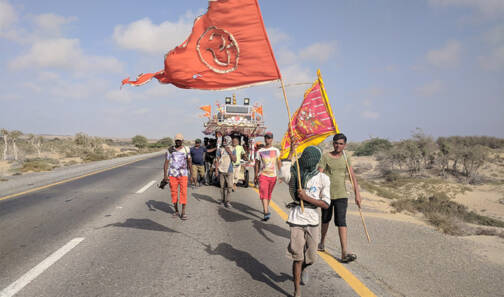 This year, the festival was not organized in April in view of the Islamic month of Ramazan and for the sake of interfaith harmony, according to Palyani. Most pilgrims come in buses, some in private cars and even on bicycles all the way from Karachi and other parts of Sindh. Others prefer to walk.   
"A large number of people start their journey weeks before and travel a distance of several hundred kilometers by foot to perform the rituals," Maharaj said.
The festival, which began in 1988, has attracted several important figures, including former Indian external affairs minister Jaswant Singh, in the past.  
"Such a huge event with best security arrangements for Hindu pilgrims is proof of the fact that Pakistan is secure for us and our country takes the best care of its minorities," Senator Palyani told Arab News.  
On a visit to the temple, he urged Indian premier Narendra Modi to come and witness the beautiful sight of Hindus performing their rituals so freely and with the best arrangements extended by the authorities.  
Read More: This Is How Pakistan Has Proudly Protected Its Non-Muslim Heritage Sites Since Inception
What do you think of this story? Let us know in the comments section below.