Been saying it a lot, will say it again: a lot of keyboard warriors have limited the practices of Islam and Quran to women only. These warriors, who can be men and women, attack on the modesty of a female Muslim with their own perspective in mind. "She shouldn't be doing such a thing", "She shouldn't be dress this way", "Fear Allah" – common phrases we often read when a woman chooses to express herself, contrary to the popular religious belief.
Something like this is what happened with Hareem Farooq who posted a picture with co-star Osman Khalid Butt.
The picture was taken at a recent local event on the 14th August where the duo, alongside a number of other public figures, were seen celebrating a world record Pakistan achieved. In all fun and joke, both friends upload the picture.
What's Strange is How When Osman Khalid Posted the Picture, No Body Told Him How Wrong He Was to be Striking Such a Pose with a 'Na-Mehraam'
The witty actor even joked about kissing and first base, but no one bat an eye.
In Fact, Many were Praising this Couple who are Just Friends and Co-Stars in Reality
Now When Hareem Farooq Uploaded the Same Picture, Everyone Started Bashing Her!
Read a Couple of Comments Here:
EXACTLY!
After Reading the Comments, Hareem Commented herself on the Picture and Expressed her Anger for all the Right Reasons!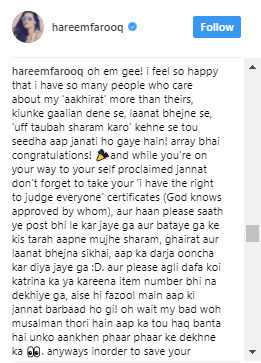 There Were Many Who Defended her too
Hareem Farooq addressed the situation in a correct manner – people were bashing her for striking a pose, whereas no one said a word to Osman Khalid. Even so, the way people bashed her reflects how they are trying to control other person's life without focusing on their own.