Amidst the evolvement of the human race, the drastic changes sometimes blow the controversial social platform. However, after the famous singer/actor Ali Zafar achieved victory, currently, his brother is caught up in a heated bandwagon. Danyal Zafar or Danny Zee as recent, his latest international debut song 'Blue Butterfly' has angered many Pakistanis.
Danyal Zafar's latest 'Blue Butterfly' made Pakistanis furious!
Previously, being innocent, the singer was being alleged to fool Pakistani admirers on Snapchat. Apparently, there was a fake Danyal Zafar out there who was messing with people on the famous Snapchat application. Leaving the past behind, the recent release of Danyal Zafar's new song 'Blue Butterfly' has made Pakistanis furious because of the western implementation.
Check out Danyal Zafar's latest music video 'Blue Butterfly'!
Certainly, the song showcases the emotional bond blended in two opposite bodies striving to find a way out. Moving on towards the concerned element, the on-point execution and the melodious lyrics are sure soothing to the listener's ears. But, Pakistanis have yet again put on the 'social media preacher' avatar and are doubting Danyal Zafar's religious beliefs.
Fiery reactions of Pakistanis on social media!
Since the song, 'Blue Butterfly' was Danyal Zafar's international debut, the video is shot in the western hemisphere. Made under the umbrella of the international entertainment company Lightingale Productions, the sensual concept of the video is gathering hate in Pakistan. After the worldwide release of 'Blue Butterfly', mostly nationals started pouring their reactions on social media.
Kindly, consult a doctor!
Danyal Zafar compared with the Spanish-Filipino singer Enrique Iglesias!

Woah! So much f**** given in a single comment!

Lo bhae! Is main bhi Prime Minister ko le aaye!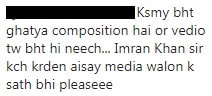 No ban implemented!

While a major of Pakistanis are busy criticizing the implementation, the less-conservative are finding it worthy. In a similar preach of events, the elder brother Ali Zafar was previously accused of harassment by a fellow Pakistani singer Meesha Shafi. Last month, a major blow was given by the Lahore High Court (LHC) after it dismissed Meesha Shafi's case against Ali Zafar.
Coming back to the younger brother, the recently launched video has Danyal Zafar and Inja Zalta in leading positions. Apparently, Inja Zalta originally belongs to Ljubljana city, the capital of Slovenia. Well, except for some Pakistanis, 'Blue Butterfly' is gathering praises from all around the world and Danyal Zafar's international debut seems to be a positive one.
 What do you think of 'Blue Butterfly'? Let us know in the comments section below!