Russian Foreign Minister Sergei Lavrov arrived in Islamabad on a two-day official visit to Pakistan on Tuesday. Foreign Minister Shah Mahmood Qureshi received Russian FM and his delegation at the Islamabad airport, the Twittersphere noticed something odd at the occasion, someone was not holding his own umbrella.
This is the first visit by a Russian FM to Pakistan since 2012. During the two-day visit, Lavrov will meet Prime Minister Imran Khan and Army Chief General Qamar Javed Bajwa.
"Pakistan and Russia share a multi-faceted relationship and we welcome FM Lavrov's visit in line with our mutual commitment to further strengthen our bilateral ties, deepening our growing bonds of cooperation & collaboration," Qureshi said in a tweet.
While this is the first visit by a Russian FM in 9 years, and the pictures and videos of the top Russian diplomat have been making rounds on social media, the Pakistani Twittersphere noticed something surreal.
Spot the difference between our FM and the Russian FM here!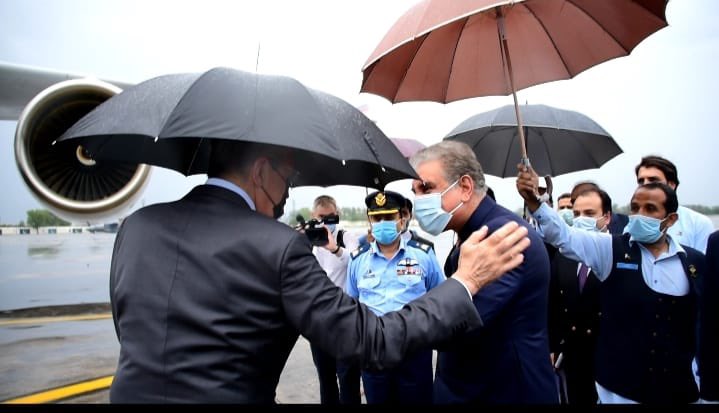 Although Qureshi himself arrived at the airport to welcome his Russian counterpart, he made a mistake in welcoming the visiting FM. On reaching Islamabad, the Russian FM was seen holding his umbrella by himself while exiting the airport, while on the other hand, the FM of Pakistan, Shah Mahmood Qureshi gave his umbrella to the equerry. 
Shah Mahmood Qureshi receives criticism
"The foreign minister of a powerful country has raised his own umbrella. Our ministers should learn this lesson. The country develops in the same way when the leaders of these countries truly consider themselves the servants of the people. Unfortunately, in our country, the representatives consider their people as slaves," one Twitter user wrote.
"The foreign minister of a powerful and former superpower carries the umbrella himself and the foreign minister of a poor developing country has a bodyguard to carry it."
"The scenario tells us that our current situation is also due to protocols and wasteful spending. We are still operating under the same Mughal system."
Ask millions of people what is wrong with Pakistan's politicians, and we will get millions of perspectives. That, in itself, tells a story.
FM Qureshi would have looked more graceful if he had carried the umbrella himself. It would have given him more protection from the rain too.
Meanwhile, one can only hope that the VIP culture rampant in Pakistan is also dealt with in pursuance of the aspirations of the masses, and the leaders here also set an example for the world leaders to follow.
Read More: Making Policeman Hold Umbrella For Him Becomes Costly For 'Elite' DC Shikarpur
What do you think of this story? Let us know in the comments section below.