As the celebrity couple, Minal Khan and Ahsan Mohsin Ikram shared loved-up photos from their baat pakki on Wednesday, they received a trove of compliments and congratulatory posts, complemented with a barrage of moral policing. Daunted by the harsh comments, sister Aiman Khan was quick to defend the couple, and make the trolls shut up.
Dressed in desi attires, the couple was all smiles and looked happy and in love in the PDA-packed photos. However, Pakistanis could not handle this public display of affection. Trolls asked the duo what the wedding photoshoot would be like if the engagement photoshoot was this 'vulgar'.
For instance, take a look at this one!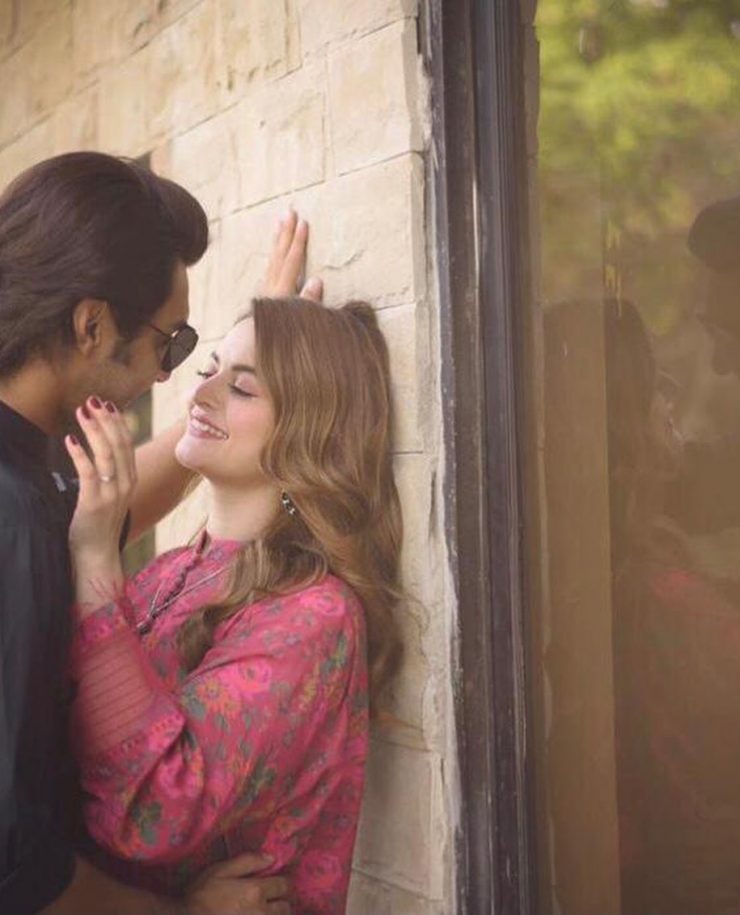 Mind you, the most these photos saw was the two staring into each other's eyes while holding each other close with Minal pinned against a wall. As expected, distasteful comments from 'fans' started flooding in. Many criticized the couple for sharing too many photos, urging them to "just get married" and "get it over with". Meanwhile, others even took offense to the pictures, calling them 'vulgar' and a needless sharing of intimacy.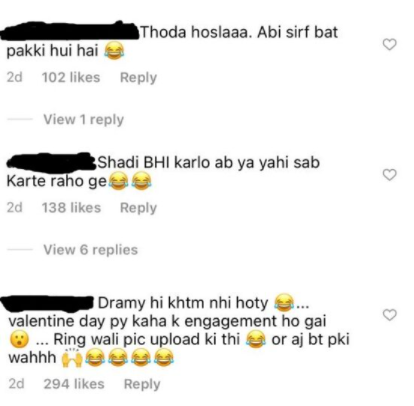 Aiman comes to defend her twin sister
As Aiman Khan saw distasteful comments flooding the post of photos Ahsan shared on his Instagram, she felt the need to respond. "Shut up all of you," she wrote. "Wish them good luck and congratulate them for their new life! Stop this negativity."

Taking to Instagram, the twin sister also uploaded a picture with her sister and soon-to-be brother-in-law on Instagram and wrote "take care of my sister".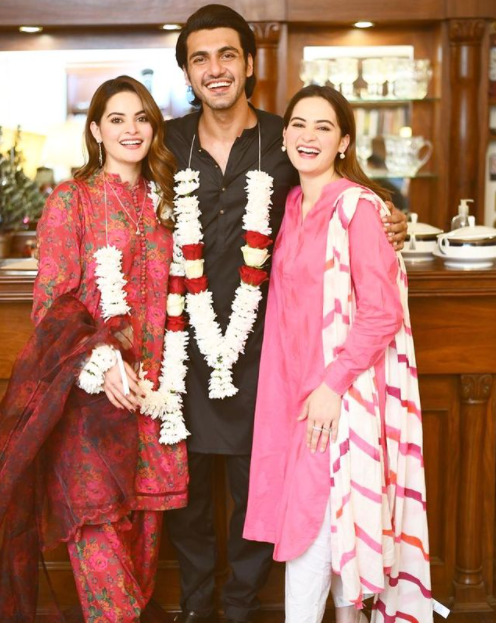 Minal and Ahsan have previously also been criticized over their PDA-filled photos. Apparently, the once deemed innocent and doe-eyed child star Minal is now rather taken to be bold and brazen by her fans. It all began when her private clips and images with her now-beau Ahsan Mohsin Ikram started emerging on social media.
The couple has previously worked together in the drama serial Parchayee. Moreover, the two had officially confirmed their relationship on Minal's birthday in November 2020 with a similar photo which received immense backlash. The starlet could be seen sitting on her beau's lap. Many criticized the young lovebirds, and actress Noor Bukhari was one of them. She bashed the couple for promoting 'haram' relationships.
Following this, Ahsan shared a photo of Minal, on Valentine's Day, donning a ring on her finger. He revealed she had said yes. Now, with their baat pakki, looks like the couple has finally made their relationship halal after all! However, when the couple will be tying the knot is still a mystery.
What do you think of this story? Let us know in the comments section below.