Lately, there was a challenge that went insanely viral on social media. Safe to mention, it probably got hyped as some of the viral challenges around including the "bottle flip challenge" etc.
In simple terms, it was a challenge about eating a cookie placed on your forehead. Actually, it's not that simple as you think.
So, what exactly was the challenge about?
People had to eat a cookie placed on their foreheads, involving zero movements from hands. Awesome, right? Obviously, it's easier said than done. It was the time when people actually witnessed the hardest way to eat a cookie. Yes, even a cookie can become a nightmare for people.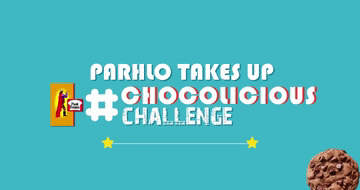 Peek Freans Chocolicious kickstarted the viral challenge. It took on board many bloggers and vloggers on social media and one after another, everyone took up the exciting challenge.
Videos of the Chocolicious challenge surfaced all over social media. People got involved and it became one of the highlights of different social media platforms.
If you haven't seen them yet, you totally missed out some really fun activity…
Here you have Team Parhlo doing their best!
Bekar Vines followed suit and this is what they've got:
How can we miss our favorite boys from Bros Meet The World?
Don't make the mistake of missing out on Danish Ali when you're doing something as such crazy
…and then we have Faiza Saleem and Ali Gul Pir with a really epic attempt!
The #ChocoliciousChallenge was really insane and these videos bear testimony of it. Seriously, some of these attempts are really crazy!
Each blogger and vlogger on social media took up the challenge and nominated others, so it started from Parhlo and reached till Faiza Saleem and Ali Gul Pir. Would you want to try it now? Come on, join the bandwagon!
Now, let's talk about why it was one of the most major challenges on social media… These statistics have really got us talking: it was taken by 5 bloggers, accumulating a total reach of 8.1 million, with 3.3 million views in total. Each challenge was flooded with likes, comments, and shares just as you would expect a viral challenge to be.
So guys, if you haven't tried the all popular #ChocoliciousChallenge, give it a try NOW!