Frontline Workers are the backbone of the Polio Eradication Initiative program in Pakistan. These women go home to home in order to administer polio vaccine drops to all Pakistani children under the age of 5 and fulfill their duties in the harshest conditions of snow in order to make our country a polio-free country.
As extreme cold weather takes over Azad Jammu and Kashmir (AJK), brave Pakistani women make their way through several feet of snow to deliver polio vaccines to children during the ongoing campaign.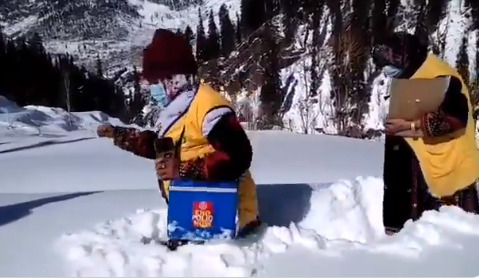 Community healthcare providers like polio workers have been part of Pakistan's polio drives for years. The real battle against polio takes place on the frontlines. These workers or the Pakistan Polio Eradication Programme's vaccinators are the people who are actually the true worriors.
They are one of the most committed segments of a program whose unwavering dedication serves as the foundation for progress towards a polio-free Pakistan. One of these dedicated and hardworking workers are these women who cross knee-deep snow to administer polio drops to kids.
Watch these brave women making their way to deliver vaccines to children
As can be seen, the video was recorded in the northeastern province of AJK.
People in hard-to reach settlements generally experience low coverage of basic public health services including routine immunization. In recent years, however, the Pakistan Polio Eradication Program has broadened its focus to enhance synergy with the Expanded Program on Immunization (EPI).
Through this synergy, it hopes to increase immunity of children through strengthened routine immunization in conjunction with special door-to-door campaigns.
Everyone should make sure their children get the polio vaccine. This virus is clearly an obstacle to the future well-being of our nation's children. These workers come together to defeat it through hard work and discipline.
Pakistanis applaud their efforts
They truly deserve all the respect and massive appreciation! It must be noted that eradicating polio is not just about polio vaccination campaigns. It is also about developing an understanding amongst our people on the importance of disease prevention through vaccines.
Through their job as lady health workers and frontline workers, these unsung heroes make sure that parents understand during both hospital visits and vaccination campaign rounds. Hats off to them!
Here's extending our solidarity with all polio workers and lady health workers. Let us all unite to rid our country of this virus and save current and future generations from polio. Also, learn more about why Pakistan still continues to fight poliovirus.
What do you think of this story? Let us know in the comments section below.