The current year has definitely been a humiliating one for Narendra Modi's India till now. Losing a few Mig-21's to Pakistan and making a fool out of itself to portray false allegations is what India is good at. Well, earlier this year, Pakistani Wing Commander (WC) Noman Ali Khan and Hassan Siddiqui downed two Indian warplanes and this grade II student now has his hero in them.
Eventually, the ongoing turmoil between Pakistan and India nearly landed both nuclear-armed states in a full-fledged war. Fortunately, Pakistan's timely retaliation and mindful approach under Prime Minister Imran Khan's sincere leadership has calmed the warmongering aspects down. On the other hand, naive India under Prime Minister Narendra Modi's vile leadership is seen promoting war.
Pakistan's national hero WC Noman Ali Khan!
Among other achievements Pakistan Air Force (PAF) endure, WC Noman Ali Khan downing Indian WC Abhinandan Varthaman's Mig-21 remains 'fantastic'.  Last month, in September, Wing Commander Noman Ali Khan revealed details of the shoot out and India's vicious plans behind the invasion. Recently, a grade II student of a well-known Pakistani school wrote a heartwarming essay on national hero WC Noman Ali Khan and the internet is in awe.
While writing an essay on the topic 'My Homeland', Maaz Hasan of grade II at The City School (Attock Campus) wrote on PAF's WC Noman Ali Khan!
Till now, the essay has been shared on numerous digital platforms making Pakistanis proud of their national hero. However, the young student's essay read, "My favorite national hero is Wing Commander Noman Ali Khan. On 27th February 2019, India tried to attack Pakistan. WC NOman shot down Indian MiG-21 (fighter jet) with his F-16 (fighter jet) and the Indian pilot was captured."
Furthermore, Maaz Hasan wrote, "WC Noman Ali protected our country from the evil plans of the enemy. He has been awarded Sitara e Jurat". Since the essay was shared online by unknown sources, Pakistanis are showcasing immense respect to the unsung hero. Precisely, the honorable piece has gone extremely viral on social media gathering love from all sides of Pakistan.
Such appreciating comments from the Pakistani nation is sure a delight to read!
"It's really important to tell our new generations to love our heroes thats how they make role models in life and become a hero themselves. Well done to the #CitySchool to teach our children to love our army and heroes." Indeed!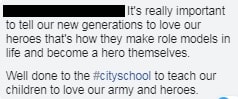 Another comment says, "Great to see that our future generation is so well informed and thoughtful. Well done." 

While praising the young student, this user writes, "Purest soul with the purest heart."

"I'm feeling very proud that even our kids know the truth and they really realize whi is our real heroes. Salute to his teachers and parents who make him aware about facts." A big salutation!

On the narration of the essay, this user commented, "Its good to see our children knowing and appreciating our national heroes. Both the drawing and the narration are FANTASTIC."

While Pakistan stays busy in creating a change at the world forum, India seems to be doing what it does best which is failing in every possible way. Last month, India's Space Mission Chandrayaan 2 also crashed on the moon and landed India in sheer humiliation. Well, the Indian hopes are high after Indian Defence Minister Rajnath Singh squashed lemon on the first Rafale jet of the country.
What do you think of the essay? Tell us in the comments section below!