Disclaimer*: The articles shared under 'Your Voice' section are sent to us by contributors and we neither confirm nor deny the authenticity of any facts stated below. Parhlo will not be liable for any false, inaccurate, inappropriate or incomplete information presented on the website. Read our disclaimer.
Pakistani Research Scholar Developed Braille learning system for Parents of Visually Impaired children
Education of disabled children is always a question mark which strict them to their homes for life. This issue is being faced by the whole world. There is no major effort being done for the education of visually impaired people in Pakistan which can make them independent in their life and help to get jobs.
Muhammad Zahid Iqbal, a research scholar at Information Technology University, Lahore has recently developed an Urdu Braille Translator and learning system for the parents of the visually impaired children. It is web-based system http://www.urdubraille.com/. He developed this system during his thesis research as Graduate student. The aim of this web-based software is to enable the parents to learn and start educating their blind kids, helping them in class homework, teaching them at home if they are not sending them to schools.
Urdu Braille Translator is helping the user to translate the Urdu text in the Braille characters and learn the Braille for Urdu characters.
View Of Urdu Braille Translator Application
It is using built-in Urdu and Braille font which was developed during this research. This Braille translator is accepting all the Urdu fonts being used in the major newspapers.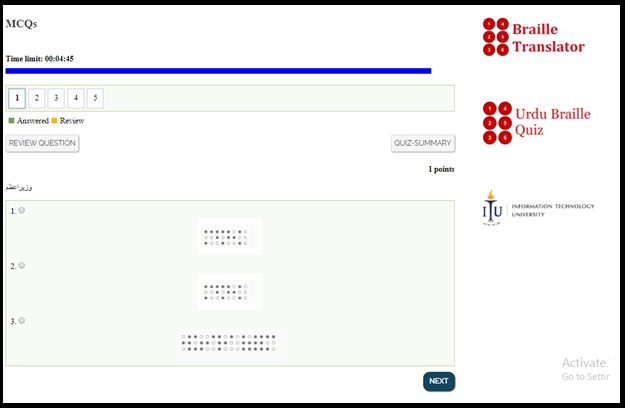 Braille learning System for parents developed in this project
The Braille learning applications are using the multiple choice questions and fill in the blanks. This is a self-learning and testing system which motivates the parents to learn the Braille using the computer interaction.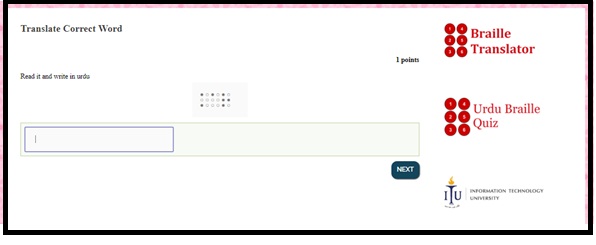 Braille learning System for parents developed in this project
This research published in the 19th International ACM SIGACCESS Conference on Computers and Accessibility which held in Baltimore, Maryland, USA. This system was tested in local special education schools with Braille instructors and the parents of the visually impaired parents who often come to take their kids back home.