Recently, there has been an epidemic of examples where people who do not have fluency in the English Language are being mocked and humiliated. It has become a "toy" for some people in our society who believe making fun of others in such a way is a joy. Lately, we have come across many instances, while we raised our voices against it but it all seemingly went in vain.
If your first language is not English and you happen to have a decent command over it then you should only thank Allah. For many people, the language is difficult to learn and a large proportion of Pakistani population lacks basic knowledge of English. We know it as a fact and besides, we are naturally conditioned to think that just because we have a superior command over a language than another person, we are superior to them.
Admit it; we all have been brought up this way in our surroundings. There was a video where a Pakistani girl failed to utter the right words in a LIVE vox pop that went viral and unfortunately she had to amass a heap of humiliation and mockery. In today's era, this kind of bullying has reached its peak and it does not seem to end anywhere because of another incident that saw a person shamelessly making fun of people who do not have knowledge of the terms he is using.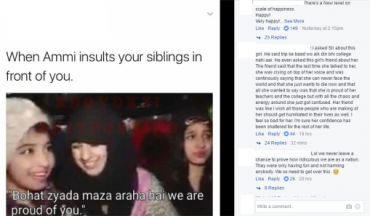 This shocking video shows a Pakistani reporter using explicit terms with people –  thinking it's funny – who have no idea about it
This video is condemnable on all grounds. The reporter has no right to humiliate people in this way. How can people find it funny?
It clearly shows the standards of humour our society has succumbed to. The video isn't funny because bullying and humiliation do not qualify as funny. It is a clear depiction of how much empathy lacks in our society. Poor, innocent people, they yielded to his so-called jokes. More shameful is the fact that people circulated this video and they also found it humorous. There is no humour at the cost of damaging one's confidence, bullying and humiliating them out in broad daylight – even though they might not understand what these words mean, ridicule is imminent.
The reporter can be clearly seen holding a mic that belongs to a famous Pakistani news portal. But the news portal has negated any association with the plan to do such a video. They also claim that they have terminated the reporter from his services.
For now on, our society still needs to be educated in ethical conduct and appreciating others for whoever they are. We are put to shame and condemn all the instances where anyone is thrashed for their unfamiliarity with a language.