Pakistan has no lack of online stores. They started appearing online a couple of years ago now there are countless such stores all over the internet. Each of them has items for sale which you can buy from the comfort of your home and then get delivered to your doorstep.
However, there is no unique factor in how they present themselves. All the stores advertise in the same manner. There are a few differences between them but the fact is that this market is rather saturated and everyone joining it has no originality and no plus points to offer. This is where Goto comes in!
Goto has a unique approach of all sorts and came up with a very clever campaign with a strategic twist. Instead of sending out the same message as everyone on the same platforms, they created a way of messaging on behalf of the shopkeepers and placed it on their store shutters themselves. You can see it on the store shutters in the pictures below. Amazing, right?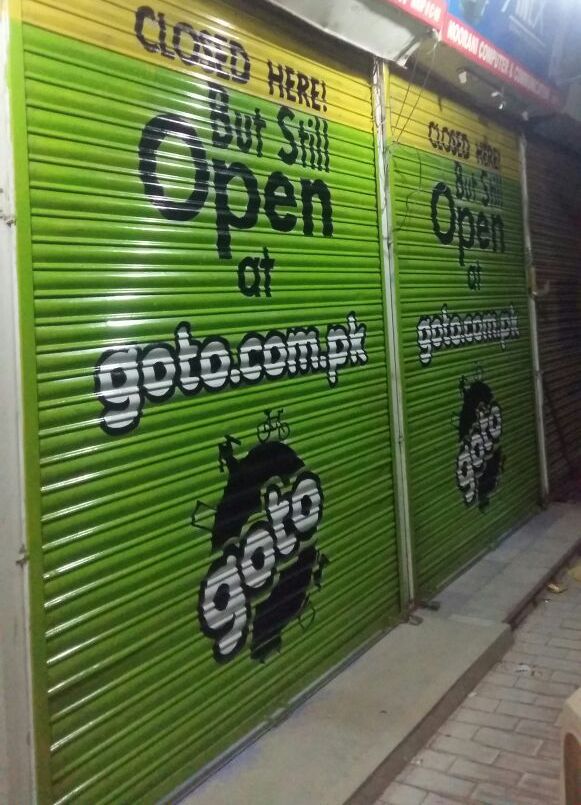 They started an initiative through which they wanted to give the message out to customers (on behalf of the vendors) that while the shop might be closed for the day, their products could still be found online at Goto. So, if you were working late in the office, and couldn't make it to the store in time to buy that new cellphone, or don't wan't to deal with all the fighting to grab the latest collection in women's fashion, you can find your favorite shop selling its products at Goto.
That way, while the store is open, it's business as usual. However, the moment the shop closes for the day, any customer that passes by the store gets the message that the shop is still open online on Goto. Can anything be more convenient than this?
Simply the best example of prioritizing the shop owners and the customers. Their operations, their strategies, all revolve around them.