Na Maloom Afraad – Better than Phir Hera Pheri
This Eid-ul-Azha was the most anticipated Eid for someone like me who is a movie freak. The releases of the two most awaited Pakistani Movies of the year 'Na Maloom Afraad' and 'Operation 021' were awaited. Being more the fan of comic and satirical movies, I chose to watch 'Na Maloom Afraad' before to 'Operation 021'. I must say when I came out of cinema house after watching the premiere of 'Na Maloom Afraad', the feeling of delight and pride on evolved Pakistani Movies increased manifold. It was total 'pasia wasool'. Na Maloom Afraad is an exuberant film that has taken Pakistani Movies to the next level with its humor and tinge of reality. It is astutely made film with great flavor of wit, and most importantly, every Pakistani citizen could relate to some part of storyline. And, that is guaranteed. This is where it has won audience's heart and proved a great hit. However; to my disappointment, the maestro Shaan's 'Operation 021' was an utter disappointment. With a weak storyline and exclusivity, it didn't meet my expectations. After the wonderful 'Waar', more was expected from Shaan Shahid as is known for his brilliance in acting. Na Maloom Afraad is more of a jesting comedy and less of thriller, directed by Nabeel Qureshi.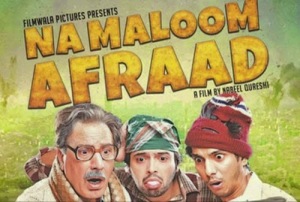 The film is produced by Fizza Ali Meerza. The film enjoyed the talented and experienced cast that embodied the storyline to the core. The film's lead actors were Javed Sheikh, Fahad Mustafa, and Mohsin Abbas Haider. Any movie that makes Javed Sheikh Part of it, instantly garners huge attention because of his great influence on uplifting standard of Pakistani Movies in recent times. Fahad Mustafa is the rising star in Pakistani Movies Industry, who has made his mark on television screens. Mohsin Abbas Haider is another actor with great potential who has performed on number of comic shows on television.
The story line is an interesting one and keeps the audience engaged from the beginning. Farhan (Fahad Mustafa) is a struggling agent who fails to achieve much in life and his life seems to be motionless. Moon (Mohsin) belongs from Punjab, his dream of moving to Dubai has no prospects of coming true and, he seems to have stuck in crowdie-Karachi. And, Shakeel (Javed Sheikh) is a financially hit, down trodden, but an honest man who has a huge burden on his shoulders to get his sister (Urwa Hocane) married, and this all makes his life none less than hell. Disgruntled and peeved with their lives, the three men get together and devise an indigenous plan to get rich and moneyed. They meet because of an accident and, from that onwards, a plan turns their lives into a roller coaster ride with thrilling experience in buzzing streets of Karachi. However; it is when Gogi (Salman Shahid) interferes into their plan and sabotages it. This is when the real story begins.
More than the catchy storyline, I was much attracted to the funny yet rich characters played in the movie. Each character has its presence and contributes the other character. Audience easily connected with the plot of the movie. The casting director did a great job for casting the actors who present the balancing effect among the characters in the movie. Javed Sheikh has smoothly played a faltering man having a persistent fear in life. Some parts of the fim reminds us of old classic bollywood comedy movies such as 'Hera Pheri' in which Fahad Mustafa and Mohsin Abbas shared shots reminiscences of shots played by Akshay Kumar and Sunil Shetty. Mohsin Abbas Haider performs comedy really well with his rural Punjabi accent. Fahad Mustafa looks dashing throughout the movie but more convincing is the fluency in his performance. Salman Shahid's acting skills have to be lauded once again, after the strong performance in 'Dedh Ishqiya'. But, his role was somewhat similar to one he played in 'Dedh Ishqiya'. He needs to disperse his roles according to his dynamic acting skills in forthcoming projects.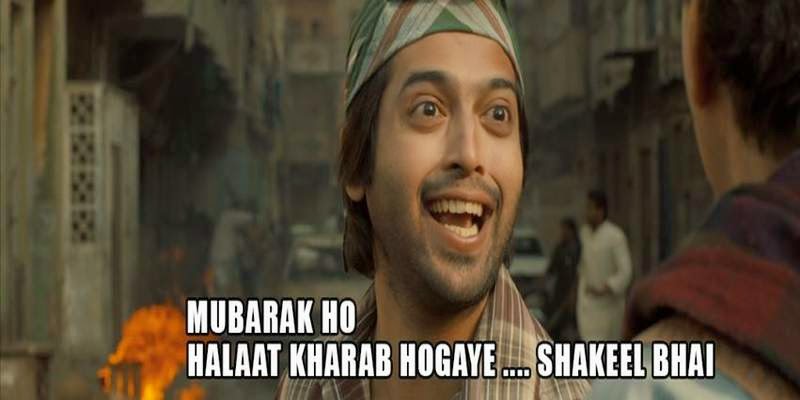 Not forgetting to mention the impact added to movie by the females' actors. Urwa Hocane and Kubra Khan did complete justice with their roles and while imagining about the movie, the roles played by them occupy conspicuous place in it. Apart from great performances and brilliant direction, the spot light in Na Maloom Afraad was stolen by sizzling performance of dashing Mehwish Hayat. The spicy item song, literally, completed the movie in every sense.
The main role played in the movie was by none other than the Karachi city itself. With the shots of busy streets, buzzing background, political disturbances, media's clamor, and the deeds of Na Maloom Afraad, who are behind the happenings in the city whether right or wrong, all are depicted in a crafty manner in the movie. While you watch movie, you feel as if whatever is being shown is happening currently in the city. This is the power of the movie and characters in it.
The movie's music is harmonious and melodic, that in every sense, amalgamates well into he story line and screen play. All the departments including cinematography, direction, dialogues, and lyrics of the songs are according to audience's preference and likings. However, editing of the movie is the thing least perfect. The pace of the movie is bit slow and takes time to reach the actual plot. There were few unnecessary scenes such as Billi's part, of course except the item song she plays, which could have been diminished. Nevertheless, Na Maloom Afraad is the revival of Pakistani Comedy Movies in Pakistani Movie Industry.
It won't be wrong to say that it played a role similar to that of Khuda ke liye few years ago, but in comedy level. Moreover, catchy jokes, strong characters, brilliant direction, and of course the sizzling item song of Mehwish Hayat has made the film huge hit and quashed thirst of Pakistani Audience with heavy dose of comedy and humor.