Man! This dude is one fire! With stellar performance in Pakistani movies like Main Hoon Shahid Afridi and Waar, Hamza Ali Abbasi proved himself to be more than 'just a pretty face'. He has undoubtedly turned out to be an exceptional actor. His blockbuster drama serial Pyaray Afzal helped his achieve unfathomable levels of success. With all that glory, he is now all set to make his directorial debut in the Pakistani movies industry with his film 'Kambakht'.
Commenting on his success Ali Hamza Abbasi said:  "People expect you to be a hero," "You are young, you look a certain way and people perceive you a certain way, and you end up being stereotype. I do not want that. Being a hero does not involve a lot of acting. I love a challenging role because I am not a hero…  I am an actor. In Kambakht, I deliberately play an ugly, crude character."
This is one of the Pakistani movies which try to break up the stereo types. Ali Hamza Abbasi aims to break away from being a mediocre leading man with the help of his movie Kambakht. Direction is Ali HAmza Abbasi's first love. His fans might be unaware of the fact that his breakout role in Waar came about completely by accident; he actually joined the project as an Assistant Director to Bilal Lashari. Even his starring role in one of the most anticipated Pakistani movies 'Kambakht' was also not part of the original plan. The role had to be played by Ahsan Khan which he could not due to his conflicting schedule and forced Ali Hamza Abbasi to take the role.  Ali Hamza Abbasi agrees that he bit more than he can chew, but he has learnt his lesson the first time round.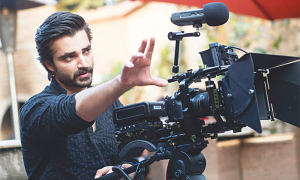 Hamza Ali Abbasi plans to make more Pakistani movies and he also aspires to make a movie on Mr. Zulfiqar Ali Bhutto.
While talking to the media about one of the upcoming Pakistani movies, 'Kambakht', Ali Hamza Abbasi said:
"I could have done much better as a director… It is a full time job behind the camera, and it is a full time job being in front of it. In the future I will not act in any film that I direct."
Ali Hamza Abbasi has worked in a couple of Pakistani movies, but he sees Kambakht as his "passion project" which looks forward to break many stereotypes. At a time when most of the makers and actors of Pakistani movies are jumping on the action based movie bandwagon, Ali Hamza Abbasi is trying tp play with a different genre, altogether. It is the one that is close to his heart as a lover of Pakistani cinema and Pakistani movies.
When Ali Hamza Abbasi was asked which comedy movies influenced him to make Kambakht, he laughingly replied: "Borat." He added: "I know it by heart; I think it's the most out-of-the-box comedy I've ever seen. I'm not too intellectual as a filmmaker! I can see Forrest Gump a million times. It's a very subtle comedy; it'll keep a smile on your face throughout as you watch it. I think that's the most intelligent part of the film."
Ali Hamza Abbasi is keeping realistic expectations from the movie and he does not see it to be one of the record breaking blockbuster Pakistani movies. He is mentally prepared for the negative consequences.  He remarked: "It is a little intimidating when people expect a lot from it (Kambakht) when ARY got associated with it and certain cast members became famous, it added more to the pressure. It is one of the very plain Pakistani movies. People today tend to have sky rocketing expectations from Pakistani movies releasing these days, especially after Waar which was an exception. Pakistani movies like Operation 021 have become outdated after Waar."
That isn't to say that he does not have any hopes pinned to the film; quite the contrary in fact. "I'm a Pakistani, and I want to be proud of Pakistani cinema," he said, "Back in college, my friends and I were movie enthusiasts and wannabe filmmakers and we used to have movie nights. Everybody used to bring films from their own countries and I had nothing.
With his movie, Kambakht, Ali Hamza Abbasi aims to divert the attention of Pakistani audience from Bollywood and Hollywood movies to Pakistani movies. Ali Hamza Abbasi said: "Unfortunately, makers of Pakistani movies have a propensity to mainly make films for festivals. I am not looking forward to win any awards with this one. Irrespective if the audience likes the movie or not, I want them to go watch it. We require bringing public to the Cineplexes first before we try to discover parallel cinema. That is the point of reviving the Pakistani film industry, to make films for the masses that will make them willingly fill the seats in the cinemas."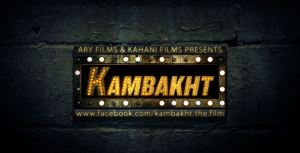 To meet up with the public demand is not an easy task. Ali Hamza Abbas told the media that he has been pressurized to include an item number in his movie. However, he has a very different mindset. He said; "I do not endorse making nudity and vulgarity a part of entertainment. We should not desire masses to appreciate it. I will not have a semi clothed woman dancing in my film to entertain people. I think that is the lowest form of entertainment."
Ali Hamza Abbasi concurred that there is a trick to Bollywood's success. But the Bollywood formula for Pakistani movies might not necessarily work for the Pakistani industry. "I was a part of it, but I will confess that Main Hoon Shahid Afridi was an 'aspirant' Bollywood film, but it was the Pakistani movie Waar that made history," "It is the one of the biggest commercial Pakistani movies and it did not even have a song in it. If the Bollywood formula was the sole criteria to make a movie successful, Main Hoon Shahid Afridi would have been a much bigger hit than the Pakistani movie Waar."
Kambakht stars Hamza Ali Abbasi, Shehryar Munawar Siddiqui, Humayun Saeed, Shafqat Cheema, Sohai Ali Abro, Saba Qamar and Yousuf Bashir Qureshi and it is expected to release later this year.