Remember the name, Umar Agha, it will be holding significant importance in the future of Pakistan's film industry. Umar, a Pakistani and a film graduate of Columbia University, has sent social media into an absolute oblivion with the release of his movie 'Saladin'(s) trailer.
This is Saladin's trailer – a masterpiece by Umar Agha and his team!
Hollywood is calling on Saladin – Saladin is calling on the public
The movie is built around Saladin, the Muslim ruler who had an eccentric importance in the medieval times – with his constant generosity, wiseness, passion, war skills and most of all his common sense of not being a religious bigot.
The best part about the trailer and the movie? Well, the team of Saladin includes some big names and veteran producers from Hollywood! People who have previously worked on emphatic movies (blockbusters) such as Batman vs Superman, Avengers, Maleficient, and even the likes of world's most famous TV show – Game of Thrones!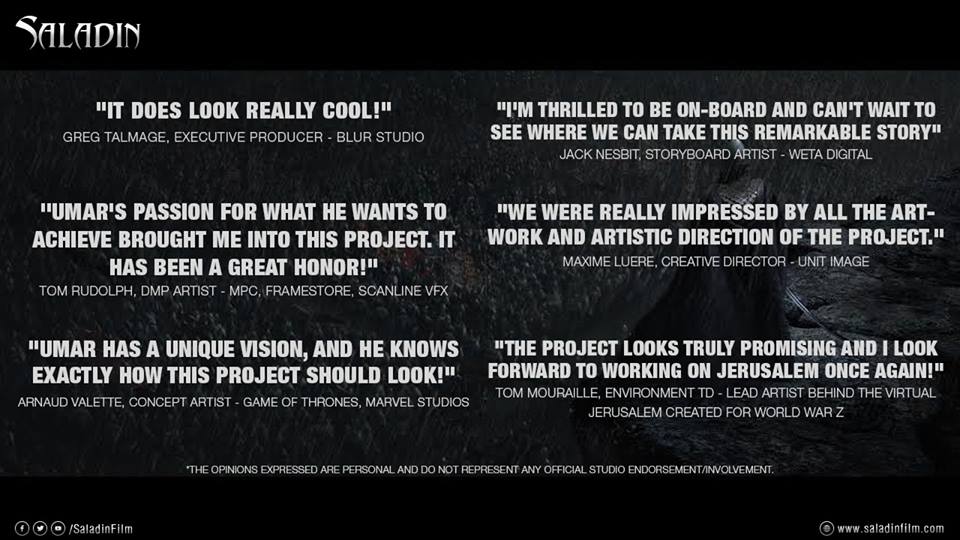 However, the most difficult part of the whole scenario is that Umar and in his team are in dire need of funding. The teaser has been produced without any funding, as it says before the video starts. The team wants to showcase their skills and generate public support funding for the finishing of the project, which indeed, looks like a very expensive one.
Who is Saladin and why is the tale an epic?
Saladin, real name An-Nasir Salah ad-Din Yusuf ibn Ayyub, was the first Sultan of Egypt and Syria, being the founder of the Ayyubid dynasty. Saladin climbed his way up from a military person to the ranks of Sultan, with the many successes he gave in the field.  During the subsequent Third Crusade, Saladin was unable to defeat the armies led by Britain's King Richard One (Lionheart), resulting in the loss of much of this conquered territory. However, he was able to negotiate a truce with Richard I that allowed for continued Muslim control of Jerusalem.
Dubbed as the 'gentle-hearted warrior' Ayubi's best qualities were his generosity and the heart he had to forgive wrongdoers and his enemies. Salahuddin Ayyubi died in 1193 AD at the age of 56. Although he was at the top of a vast empire which stretched from Egypt to Syria, he never kept much for himself. Before his death, all he had was a horse and money, which were not sufficient to put him in his grave. He devoted his life to Islam and was the epitome of a real hero and a righteous Muslim.
We can't wait to see Saladin in cinemas, what about you?
Read Also: Pakistan National Council Of Arts Wishes To See Chinese Films In Pakistan's Cinemas