The trend of having extravagant weddings in Pakistan is on the rise and majority of the families have now started saving and preparing months before the actual wedding day. If we talk about girls, their shopping for 'jahez' starts at a very young age in some Pakistani households. Isn't that the case nowadays?
Well, it's not the parents anymore who feel burdened, but guys are now on the list as well. They feel victimized. Why? Many Pakistani men out there feel that girls get married just so that her future husband will be able to fulfill all their financial needs, to take care of their unnecessary desires and what not. And this has now become a reason why they're not willing to get married. Well, there was this one guy who felt the need of voicing his thoughts on how guys are now reluctant about getting married nowadays…
And yes, he literally let his heart out in this post…
Here's what this guy had to say:
A Reality Check For Girls.
I don't usually write long statuses to look some intellectual or badass. But this thing is bothering me for quite a long time.
Getting straight to the point:
The hypocrisy is girls are into only "Well-settled" guys. Marriage is considered as a financial up gradation. We often hear a conversation:
"Ami mujhay branded shoes chaiye na"
"Shaadi kay baad lena, abhi bohat responsibilities hain papa pay beta, we cant afford"
This! This mindset is killing the pious relation of marriage. Guys are afraid to marry because of the burden that they have to lift and hiding behind the block of affordability, guys are growing older with girls on the hunt for their prince charming.
What you girls need to realize is picking up a struggling guy doesn't only increases your respect in front of your husband to be but it will also boost your self-esteem and every time you will see yourself in the mirror, you will see a prouder you.
– The guy should have his own house.
– Salary should be over 65k at least.
– He should own a car.
– He should be that much stable to afford brands, eat sprees, etc.
A question for all of you, was your father that much stable when he got married? and what about your brother who has just initiated with his job of just over 30k?
Try to give your definition of stability a real meaning and a try to hold on a guy who is a hard worker, focused and who is into making you happy with all that he can do. Do not mix happiness with materialism because, in the end, you will get what you prefer.
If you are on the hunt to get an ATM CARD, prepare to live with precious things and fabricated feelings. Hypocrisy on both the sides should be stopped and in the end, for all of those girls who are into relationships, if you want your guy to be well-settled and a money making machine to afford all of your leisure, why YOU then? He can get any other girl than you who might be better than you, THINK!
#Marriage #PapasPrincexx #Feminism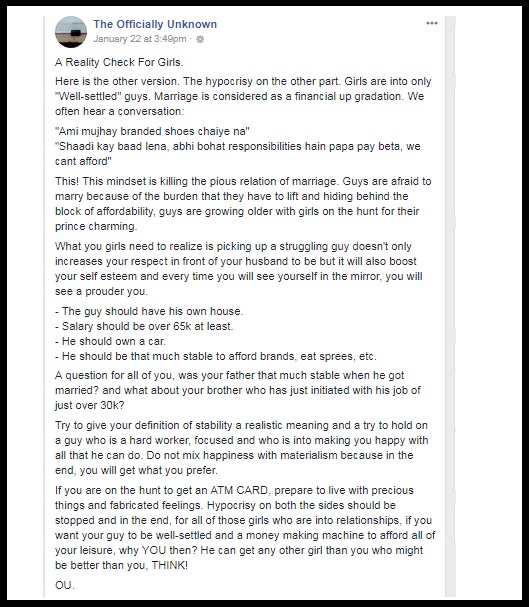 However, soon after he let out his feelings, many people expressed their disagreement on this matter.
Here's what they had to say: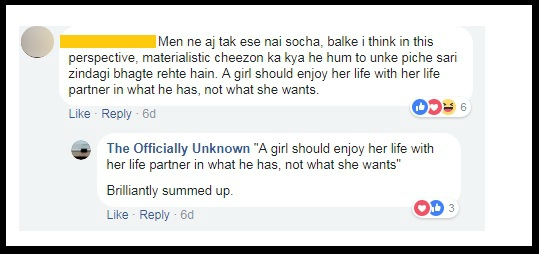 LOL.

This!
Yay cheezzz!!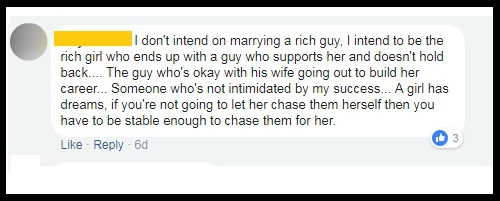 The societal pressure has surely taken a toll on every Pakistani out there. More men now have come under the pressure especially when the girl's family asks questions such as how much does the guy earn? Does he live in a separate house? Does he own a car? etc, etc. and the list goes and on. The guy above was confused whether marriage is all about a guy's money, well, we'll leave that for you to answer…
Don't forget to share your thoughts in the comments. Also, tell us if you agree or disagree with his views. Until next time!
Source: Facebook / Theofficiallyunknown