Just when you thought you have seen everything on the internet, this latest utterly hilarious video reveals something you may have never thought of seeing on the internet, especially coming from Pakistan.
Maulvis create a very stern image in Pakistan. They are respected for their profession and regarded as decent men who convey the message of Allah. However, there are good people and there are bad people.
That notion aside, recently the dancing video of a Pakistani Maulvi went viral on the internet.
The Maulvi was seen dancing in a private setting while wearing shalwar kameez. However, underneath his clothing, he was wearing women undergarments, the bra specifically.
With Moves Like his, it had to Go Viral!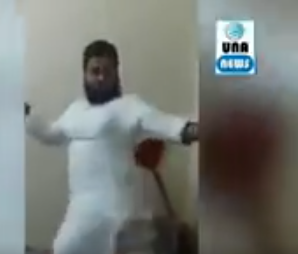 As the video surfaced on the internet, the Maulvi then realized the mistake and made another video, apologizing to the locals for dancing in such a manner.
When you think you've seen more or less everything and then this comes along… pic.twitter.com/QViEOTbuaw

— Bilal Farooqi (@bilalfqi) January 20, 2018
The Pakistanis Had their Take on the Video and the Maulvi as well
The look of sheer joy on that dancing maulvi's face, we all need to feel that kind of happiness.

— Ahmed (@azkhawaja1) January 22, 2018
LOLOL!
Is ne bra pehni he????

— Alishba ?? (@waveygrave) January 20, 2018
Lag raha hai Panty bhi pheni hai kaise chamak chalo kar raha hai dekho.

— Jobs ⛄ (@_Am_bi_tious) January 21, 2018
Well…
Bhai sharminda q Aap kuch galat ni kia khush ra karo panchodo

— salman khawaja (@phabikhawaja) January 20, 2018
Makes Sense
Sharmindagi is not on the dance. Sharmindagi is on hypocrisy that they stop and even kill others for enjoying the same happiness.

— ᴇʀɢᴏᴘʜɪʟᴇ (@RstyClinomaniac) January 20, 2018
Well, it doesn't seem anything wrong because the Maulvi was doing all of this in the private and someone invaded the private space by releasing his video on the internet. Of course, it depends on how the man is when it comes to being a preacher, but enjoying in a private setting seems fine and everybody wishes to do that every once in a while.
However, he indeed had some really great dancing moves!