Raw talent can sometimes be found in unexpected places. Not in the usual schools that are experts in systematically honing skills or academies aiming to make a star out of their students. Once in a blue moon, you meet these talented individuals that are mostly self-taught out of pure passion, on a regular day. Like a man in Islamabad's f-9 park who sings just like Kishore Kumar.
One such man is Haq Nawaz who is making waves on social media for his melodious vocals and beautiful performance. Pakistanis recently came across one, and we are amazed. More so, he is no less than Kishore Kumar!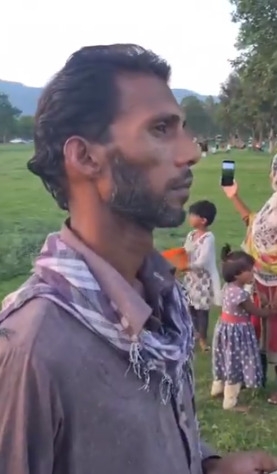 It is easy to see why everyone has been smitten with his unexpectedly on-point 'sur'. He definitely knows how to bring out so many different colors of emotions with his beautiful voice. It is certainly not every day that one finds such gems.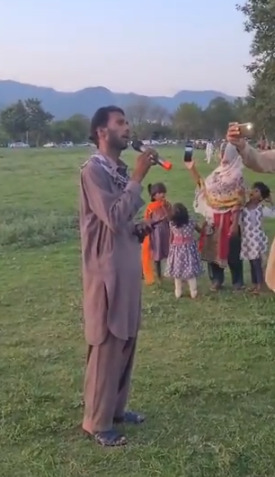 Taking to Twitter, people shared a video of a truly talented man singing in Islamabad's F-9 Park like Kishore Kumar. In the video, Nawaz sings one of Kishore Kumar's evergreen songs Zindagi Ke Safar Mein Guzar Jaate.
Take a look at it!
"Haq Nawaz's voice in Islamabad's F-9 Park is no less than Kishore," read the caption.
Simply beautiful, don't you think? It is possible for social media to make a significant impact on people's lives. Numerous examples exist where celebrities and prominent individuals gained recognition and fame through the internet. Nawaz also deserves a fair shot, so he too should be given this opportunity. He could go places with his soulful voice.
Viewers are just loving him!
One user suggested the DC Islamabad to allocate him a spot in the park.
"Wow. I have no idea who Kishore Kumar is but he sings beautifully," said a viewer.
Someone even asked for his contact details and wished to make him a brand ambassador. WOW!

What? Haq Nawaz has a YouTube channel, too!
Yep. This talented man can also be found on YouTube by the name of 'Mohammad Rafi Copy Official'. Moreover, with about 1.93k subscribers, Nawaz has a number of singing videos on his channel.
A few years back, a video went viral on social media, where a young Pakistani kid was singing the song on live tv, being recorded as the reporter interviewed him. Even though the child did not remember most of the lyrics to the song, since it is neither in English or Urdu, but Spanish, he still did a remarkable job at singing as much as he could.
Also, a kulfi wala was also recently spotted singing beautifully!
What do you think of this story? Let us know in the comments section below.