Women rarely ride motorbikes in Pakistan. It is more frequent to see a 10-year-old boy riding his mother to the grocery store than to see a woman riding alone. But lately, we caught some rare sight that melted our hearts, a man who teaches his wife how to ride a motorbike.
There are some exceptions in big cities, but for most of the country, a woman biking is a fairytale. Pakistan has crowded streets dominated by men; when women do venture out, they sit (side saddle) on bikes or in the backseats of cars.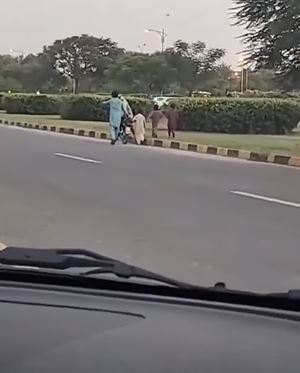 In the above image, you can see a man who teaches his wife to ride a motorbike. Meanwhile, their kids cheer their mother. A rare sight, right?
Previously, all kinds of claims were made to discourage women from taking to the bike. A woman on a bike was a threat to the social order. However, what you see in the image above is the act of empowering women. How is it women empowerment, you ask? The man is promoting his wife's sense of self-worth, her ability to determine their own choices, and her right to influence social change for herself and others.
Taking to Twitter, a user shared a video of this happy family. "I saw the best thing today. A husband was teaching his wife how to drive a motorbike while their little sons, frolicked, cheering their mom," she wrote. "Chooti chooti khoobsurat khushiyan [little moments of happiness]."
Take a look at it!
'We need more men like these in Pakistan'
Things appear to be drastically improving in Pakistan. A small yet significant portion of society does encourage women's empowerment. Such women are breaking stereotypes and proving to the world that they can do absolutely anything.
Meanwhile, Khadija tul Kubra from Quetta, dresses as a boy, rides her motorcycle through the crowds to pick up her siblings from school every day. Kubra, 17, lives in a region where women are traditionally prohibited from leaving their homes. Nonetheless, her father taught her how to ride a bike.
Among many inspirational women that are working tirelessly to support their family is also Haya Faisal. Faisal is a female cab driver providing pick and drop services for women and families in Karachi.
Since she was young, many tried to cheat her, after suffering for a long she decided to learn to drive and started a pick-and-drop service. This became a huge success. Eventually, Faisal started her own pick-and-drop service in Karachi only for women.
What do you think of this story? Let us know in the comments section below.