For women in Pakistan, sexual harassment is a daily torture. It is unfortunate that our society has accepted it. It has now become a part and parcel of our patriarchal culture and we refuse to speak against it. Recently in Karachi city, a man saves a woman from a harasser abusing her.
According to reports, 90% of women experience sexual violence; in public spaces, and yet less than 10% of these cases are reported.
A raft of new laws to protect the women of Pakistan seems to have done little to nothing. Despite the existence of a raft of strong legislation focused on women's rights, the depressing figures of sexual harassment cases keep exacerbating.
It is often believed that Pakistan is a patriarchal society. It has internalized misogyny to such an extent that incidents of brutal sexual assaults often lead to blaming the victim rather than ripping apart the culprit.
We have also seen that Pakistanis show an insensitive attitude towards the term sexual harassment. They show a similar response to feminism and discrimination. However, in a recent viral video, we can see a brave Pakistani is confronting a potential rapist that harasses women. The Incident happened near Hill Park in Karachi.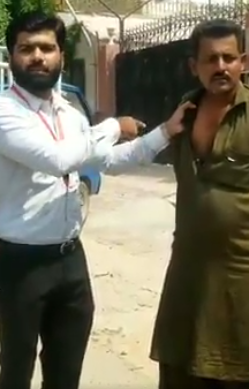 A brave young man gives the sexual offender a life lesson and saves the woman
According to the woman in this video, she was going to the office where she work as a help. On her way, she observed a man stopping his bike again and again near to her.
The lady asked one of the nearby man to help as they were trying to harass her. Upon catching the offender as a man saves this woman in Karachi, it was revealed that harasser was consistently asking to get the contact number of the woman.
One of the nearby men than stopped called the police. The police team reached the location within a few minutes and cooperated with them in registering the complaint and locked up the man. According to the police, some minor complaints were already registered about this sexual offender in the same police station.
As evident from the video above, we have to protect our women from such sexual offenders. It is quite normal for women to get harassed on regular basis by such criminals. But by remaining silent, we allow such offenders to harass women with ease.
Encouraging women for self defense against sexual offenders
Other than becoming a victim to sexual harassment, there are several ways in which women can counter sexual harassment so that public and private spaces are safer for them. In order to avoid from getting harassed, few women in Pakistan have started producing pepper sprays. Not only are they helping each other buy pepper sprays but also tasers to protect themselves.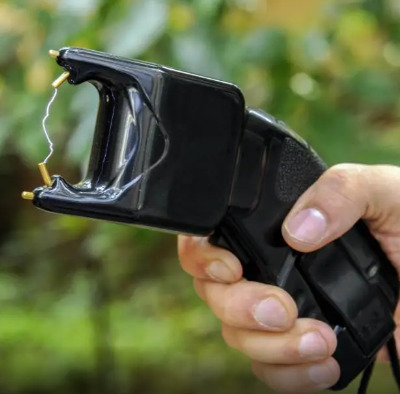 Many are working on mass-producing pepper sprays, and are selling it at reasonable prices. Some are selling these to underprivileged women at extremely low prices. There are few women that have also stocked tasers with them.
If we think about it, it is mostly about power. If women begin to exert power in the way that they can, then we might see a push back in terms of the incidences. Being a Pakistani citizen, it is our responsibility towards society to save women. We have to take the charge of it. Otherwise next victim can be our family.
What do you think of this story? Let us know in the comments section below!