Disclaimer*: The articles shared under 'Your Voice' section are sent to us by contributors and we neither confirm nor deny the authenticity of any facts stated below. Parhlo will not be liable for any false, inaccurate, inappropriate or incomplete information presented on the website. Read our disclaimer.
It's heartbreaking when you come across the news of your loved one suffering from a health issue. It's even more devastating when you know that their life is at risk and whe the doctors are unaware of the disease and its cure.
We recently had someone share a story with us of a Pakistani guy who's fighting a rare disease! And well, the guy, himself wrote the story:
On 15 September 2014, I was diagnosed with a very rare disease called Hughes Stovin Syndrome (HSS). It is so rare that there are only 45-50 registered cases in the world. It's been four years till now that this disease has sheltered inside of me.
Day by day this disease is slowly consuming me. Doctors weren't able to diagnose what's wrong with me for a long time and now when they have finally given my condition a name, they don't know how to cure it because the exact treatment for it is not found yet.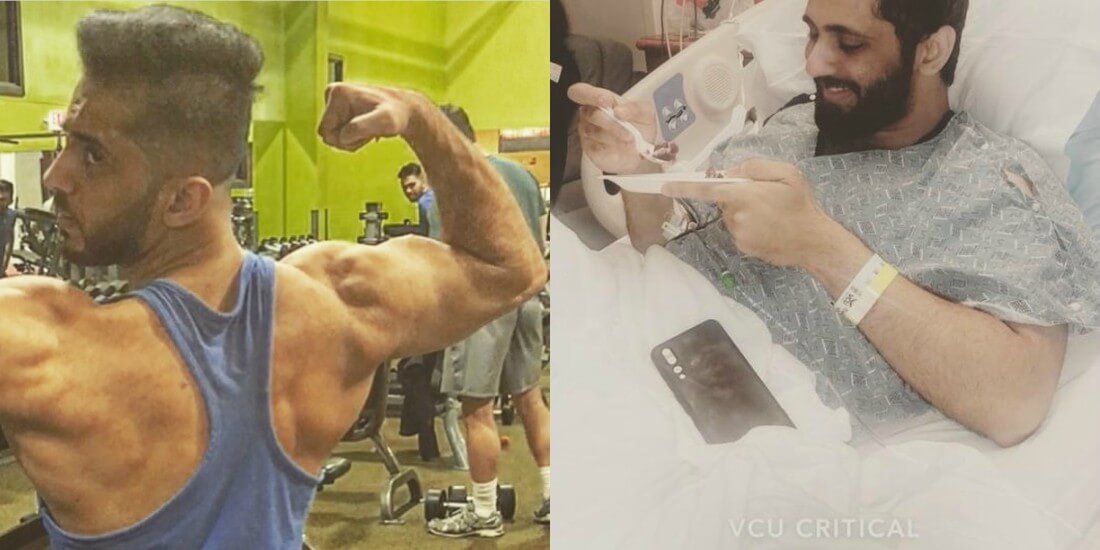 Four years ago, I was also living a normal life, just like all of you. I was a gym freak and loved bodybuilding. It was my passion and my forever love but one night everything just changed without a warning. I hail from Pakistan. Crossing borders for treatment didn't work that much. After my treatment in Saudi Arabia, I am currently in the USA, still undergoing treatment.
Till now, I have undergone two surgeries for getting some relief. I've got coil-embolized twice due to lung artery aneurysm. My right lung has around 12-14 coils inserted. Then I have an inferior vena cava filter (IVC filter) due to deep vein thrombosis (DVT) in my leg. I have also had three chemotherapy sessions and a few more are waiting.
Now you must be wondering why I'm telling you this… Right? I don't need any money from you guys. I just want to spread awareness about this disease as it is very rare. Being a gym freak, I have learnt how to survive the pain and I want to share the same message with all of you. I want to show people that no matter what you go through, you have to remain strong.
Staying strong is the only option. Sure life's tough, but so are you! Your life is a blessing and no matter what you are going through, no matter how hard things may seem, never give up! It's true that life is uncertain but you are not weak either… Are you? Kindly remember me in your prayers."
As Muslims, let's not forget all those who're suffering from problems and illnesses, in our prayers. May Allah help them and give them shifa and may they live a long life. Ameen.
Read Also; Simple Ways of Reversing Coronary Disease and Preventing Heart Attack – 'Clinton's Diet Model'