Pakistani fashion industry is one of fastest growing industries of the county. People in Pakistan were never as fashion conscious as they are now. Pakistani brands faced great difficulty to keep up with the domestic demands and for competing internationally.
Pakistani fashion today has taken a huge shift; we see Western influence more in the designs and cuts. With the passage of time people have become more particular and concerned about what to wear and what not to wear. Today, people tend to follow the Pakistani fashion industry trends more than ever, irrespective of their gender.
We have many brands which are dedicated to females such as Sana Safinaz, but the stereotype that Pakistani fashion is 'all about females' is no more valid now. Men too have become equally brand conscious. To cater to the demands of Pakistani men, many brands have come up with exclusive lines of men clothing.
Pakistani fashion industry is getting internationally recognized and famous for introducing innovation and fusion of east and west in their men's wear line. Male clothing collections in Pakistan possess unique elegance and sophistication. Any of the Pakistani fashion designers for male clothing can easily give tough competition to international designers and brands.
As winter is approaching many of the brands and designers in the Pakistani fashion industry have introduced their winter collection. Here are 5 top designers/ brands for men clothing: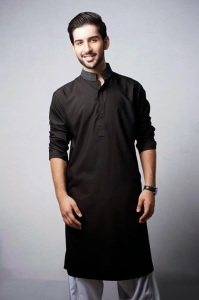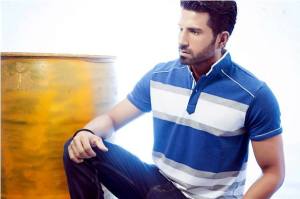 Bonanza
Established in the year 1976, Bonanza is considered to be one of the most influential brands (predominantly for men's wear) in Pakistani fashion industry. The quality of their products is of international standards, that is why they managed to win the trust of the entire nation.
When it comes to men's wear Bonanza garments introduced many new trends, which were later followed by the rest of the Pakistani fashion industry. The success of Bonanza can be gauged y the fact that men say they feel 'different form the rest' when they wear Bonanza. This year also, Bonanza has introduced their winter collection, which includes a variety of men's wear. Bonanza is one of the pioneer brands which played with Kurta Shalwar and introduced the 'designer wear' element to it.
Bonanza's winter collection 2014 includes a varied range of pullovers, zippers, cardigans, sando sweaters, woolen sweaters, half zippers, jumpers, blazers, leather long coats, leather jackets and much more. Exclusively designed jackets including lambs, Marino and angora style are also featured in the collection. The winter collection for Shalwar suit for men offers Bonanza's patent elegance and uses silk fabric and pima cotton with pure finish.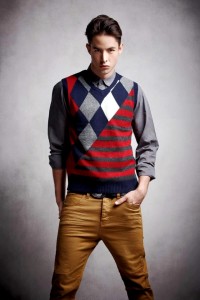 Outfitters
Operating in almost all the cities of Pakistan, Outfitters is a retail apparel chain which made its name in top Pakistani fashion brands shortly after its opening. The brand started its operations in the year 2003 and since then it has become famous for its men's wear.
It is the largest retail company in the whole of Pakistani fashion industry having 56 stores nationwide. The winter collection 2014 of Outfitters offers high quality and uniquely designed jackets, sweaters, hoodies, jeans, jumpers, blazers, coats, and shirts. They are also offering special discount amounting upto 50% on limited products.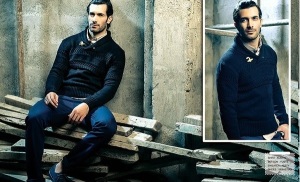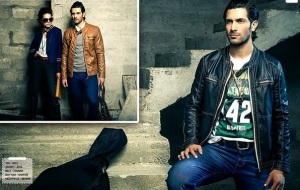 Stoneage
Stoneage is the sub brand of Crescent Bahuman Ltd. It started its operations in Pakistan in the year 2006 and made a significant mark in the Pakistani fashion industry. Jeans by Stoneage has always been in demand and very popular amongst Pakistani men.
Stoneage has outlets in Lahore, Karachi, Fasialabad, Sialkot, Rawalpindi, Multan and Islamabad. The hottest selling product of Stoneage is five star pocket jeans, which is very popular amongst Pakistani men. The winter collection 2014 of Stoneage endorses its trademark 'Urban Modern Youth' style and involves ruff and casual western style of men's clothing.
The latest winter collection also features denims jeans, sweaters, knit-wears casual shirts, shoes, men accessories, pants, coats, western wear shirts, trousers and jackets.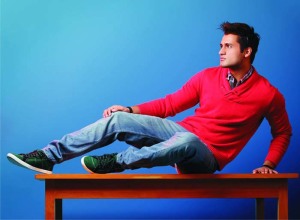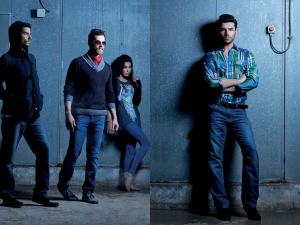 Riverstone
It is impossible that we talk about famous brands in Pakistani fashion industry for men and we don't talk about Riverstone. It started its function in the year 2006 and grabbed a huge male customer base in very short span of time, mainly because of its original and innovative designs.
The winter collection 2014 of Riverstone offers high quality stuff at affordable prices. Riverstone's winter collection 2014 offers uniquely designed and high quality men's wear which includes sweaters, jackets, woolen scarfs for men, mufflers, coats, casual jeans check line shirts, T-shirts, double shirts etc.
Precisely this Pakistani fashion brand is loaded with options. It is surely the brand for the one who desires to look fashionable and trendy.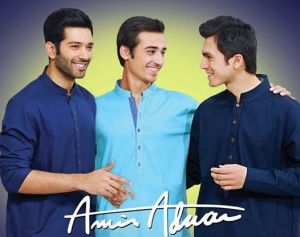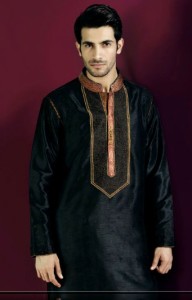 Amir Adnan
The most recognized and appreciated label for men in Pakistani fashion industry is undoubtedly, Amir Adnan. It plays around with traditional eastern trends and manufactures magnificent masterpieces which are not only famous in Pakistan but also all around the globe.
For many years Amir Adnan ruled the Pakistani fashion industry. It is said to be the very first Pakistani international men's wear label. If you desire to go for Pakistani dresses, this winter, and you have a few bucks to spare, you can safely opt for Amir Adnan. Just like all the other collections for men, this winter, Amir Adnan introduced traditional shewrwani, embroidered kurtas, casual kurtas, fancy men's kurta, formal suits, semi formal shalwar kameez, couture dresses and much more with pure eastern touch. Amir Adnan targets the upper-class market and has outlets in 6 of the major cities of Pakistan.
The country is going through a political turmoil these days, irrespective of that the Pakistani fashion industry is constantly booming which is a positive sign. Healthy competition is being developed in the Pakistani fashion industry to keep up with the demands of customers and to become their favorite brand. This competition is resulting in improved quality of goods and affordable prices.
In order to know the latest trends in Pakistani fashion industry for men, one needs to follow all the above brands. Now that they have introduced their winter collection for the year 2014, it will become really easy for any guy to stay in fashion, this winter. Everyone desires to look good and men too have the right to stay in fashion, up and trendy!