Here are some of the top Pakistani fashion brands for females that have launched their winter collection for the year 2014: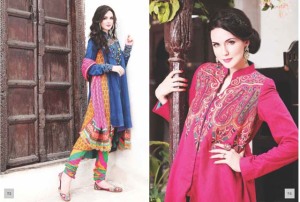 Chinyere
Chinyere is one of the most appreciated brands in the Pakistani fashion industry. It has been entrancing the ladies of Pakistan since the time it started its operations. Â Each season, may it be winter or summer, spring or mid breeze, it never fails to provide innovativeness in Pakistani fashion. Besides festival based collections such as Eid etc., Chinyere is particularly famous for its winter collection as well in the Pakistani fashion industry. Chinyere serves both men and women, however, its collection for females are more enticing. The mid-year summer collection of Chinyere showcased its dazzling collection comprising of unique designs like every year. The winter collection is entirely different. It offers winter colors and winter friendly designs which are different than the rest available in the market. So if you want to stand out in the crowd, drape yourself in Chinyere, this winters.
AL Karam
Who does not know about the super famous Pakistani fashion label, Al Karam. This style house offers a range of different products including dresses, bed sheets and so forth. If we particularly talk about ladies attire and clothing line, the summer collection did very well. It was well received by the customers and remained popular among the ladies of Pakistan. Similarly, the winter collection for the year 2014, seems promising and offers trendy Pakistani fashion designs. The winter collection 2014 of Al Karam is an extension to its winter collection 2013 and is named as "Al Karam hues of winter collection", vol 03." For its winter collection Al Karam has come up with 30 fresh prints of unstitched dresses specifically designed for girls to wear it on New Year's parties. This winter Al Karam has yet again introduced long shirts and kurti which are pretty much in the Pakistani fashion industry these days. The clothing line is a blend of contemporary and classic prints with a little alteration of bottom wear, the stretchy trousers and plazos are in. This iconic brand of Pakistani fashion industry is offering ideal combination of embroideries and beautiful prints on linen and pashmina fabric. The color schemes used are in line with the latest Pakistani fashion trends. They are slightly bright and prominent and the collection of the dresses offers an intelligent mix of regional style, trendy embroidery and exclusivity.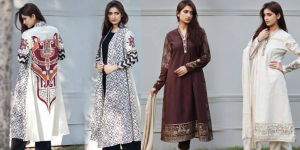 MARIA.B
One of the top-notch Pakistani fashion designers, Maria B has also introduced her Winter Collection 2014. The winter collection 2014 by Maria B is wonderful and rich almost the same as the brand owner herself. Maria B has introduced all the latest trends, styles and designs of Pakistani fashion industry in her winter collection for the year 2014. The dresses are chic and are typically best suited for evening gatherings such as candle light dinners, functions, parties, bone fire, etc. We have seen this trend in the Pakistani fashion industry that many of the Pakistani fashion designers remain confused regarding the choice of people, but Maria. B is the one who believes that only professionals can know how to please their customers. That is why her collections are admired by the masses and stand out in the Pakistani fashion industry. The new winter collection comprises of both stitched and unstitched dresses and is available at very reasonable prices. The prices are customer friendly and one cannot consider them to be too high or too low.
It is the dream of very Pakistani girl today to follow the latest Pakistani fashion without looking overdressed. Maria B provides the perfect dresses which are simple yet modern and complements the Pakistani fashion. Maria B has always inspired her customers and though the winter collection 2014, in general entertains and focuses on party wear, with the use of vivid and intense colors like black, maroon, purple, red, green which are perfect for young ladies. But, on the contrary, she has also introduced some dresses for women who prefer subtle tones. The collection for them is also available in soft and light colors such as peach, yellow and pink, which are elegant in their own way. Her winter collection can be considered as the benchmark for the Pakistani fashion industry and is up for grabs at her outlets.
Khaadi
In the Pakistani fashion industry, Khaadi is particularly famous for its Kurtas. Unconventionally, for the winter collection 2014 of Khaadi offers top khaadi formal wear collections. Foe winters, Khaadi has presented a completely different range of kurtas and unstitched dresses. In Khaadi's winter collection 2014, latest designs, prints, technical cuts and patterns can be seen. Khaadi provides best quality kurtas which can be easily worn with tights, pajamas, cigarette pants, churi daar pajamas, jeans, straight pants and other garments. Khaadi provides females of all ages its outstanding collection of A-line shirts, long shirts, and kurtis alongside other accessorial items. The winter collection 2014 offers dresses which are formal and casual and can also be worn as a party wear. This khaadi pret wear fall 2014-15 is yet to be released; however, the public is keenly looking forward to its launch.
Warda
Warda entered the Pakistani fashion industry in the year 2006 and rapidly made its place amongst one of the most well recognized brands in the fashion industry. Season after season, since its launch, Warda has been stunning the females of Pakistan with its exclusive taste for colors and designs.After making its mark in the Pakistani fashion industry, it is all set to take Pakistani fashion to India and UAE. Warda prints for winters / the fall winter collection 2014, presents unimaginably magnificent chiffon and karandi prints. The collection comprises of latest styled tailored trendy long shirts with pajamas and trousers. Warda's winter collection can best serve as a party wear with the shirts being exclusively designed with dissimilar prints and patterns. Warda is one of those names in the Pakistani fashion industry which offers finest quality fabrics at affordable prices. The winter collection for 2014 features chiffon, karandi, khaddar and silk collections in attractive vivid colors which are best suited for young girls.