Shadi season is in full swing and during this time, women tend to go through pre-wedding jitters and post marriage depression. And there's no doubt about the fact that women actually go nuts on their wedding as something or the other HAS to go wrong. Well, which is perfectly fine.
But let's break this to you that it's not just the bride who turns into a crazy, sleepless bridezilla. Every ghar ka fard loses their mind during the wedding chaos! But that's what makes it all exciting and happening! Doesn't it? With chaos, comes all the fun, food, dance practices, glamour, makeup etc, etc!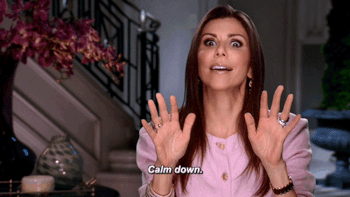 Can you relate to the following major things that usually takes place in every bride's home?
Apart from all the chaos, everyone around the bride tries to control the haphazard in their own way and it's most satisfying feeling ever! Like for example:
1. That one, energetic BILLO!
Every bride has that one BILLO that the entire khandaan relies on. Thank God for her because she is a major major confidence lifter for all brides.
2. Perfect dance steps?
When you are not worried about the dances because all your bridesmaids are going to nail it with their moves!
3. Haye, the judgemental society!
When you have friends and family who support you in front of all the judgemental aunties who will say "Dulhan ko sharmana chaihye" or "Itna kyun hans rahi ho" etc
4. Convincing your ghar walay to let you dance on your mehndi or shaadi
Excuse me? It's the biggest and the happiest day of a dulhan's life! Let her enjoy it? Plis?
5. But guess what? You got your spouse right by your side!
It's true! If your spouse is with you, then there is nothing in the world that can stop you from enjoying your wedding and live the day the way you want.
So… Get up and hit the dance floor like this dulhan right here!
This dulhan right here in the new song 'Billo' by Strepsils Stereo is goals! So all you brides-to-be, just enjoy your big day because nothing else matters! Be like this fearless and non-sharmeeli dulhan! Haha!
You guys need to check out the full version here!
Strepsils Stereo with 'Billo' brings a fresh new perspective to all our wedding songs. Imagine an Acappella wedding song… What a brilliant thought right there! Not only the audio is amazing but the concept of the video is so LIT!!!
Promoting empowerment for women, the song is based on their right to enjoy weddings without any 'rok-tok' or being judged, especially for the bride! We are loving this positivity. Hands up in the air,  dulhans…this is your day to shine!
What are your thoughts on this? Let us know in the comments below!