Put on your adult diapers and whip up some chimichangas, because Deadpool's here. The story made us believe that strange humor combined with some sleek action makes for some great entertainment at the theatres and the audience is hoping that Deadpool 3 will be even better than the first two ones.
However, before the third part of the original movie releases – there's one more Deadpool that you need to check out and he's the Pakistani version of Ryan Reynolds! Won't Reynolds be proud?

In 2006, SK Productions posted an eight-minute video featuring the early cheap DIY costume version od Deadpool going around having samosas and breaking various news outside a dhaba. The video really highlighted our country and how the petty issues need to be looked at!
Here's that video!
The above video was lauded by several people and a flood of positive comments took over social media. However, after almost three years another video was uploaded by DablewTee where they showed that this Pakistani Deadpool has evolved and has learned some new tricks and ropes to be an entertainer.
Check this out too!
The video includes rap like lines "Goli maar ke tujhe aise nachata, aik hath me katana, dusre me paratha" and "Saare log apni khidkiyan band kar, Hollywood se aaya Pakistan ke wo andar, Marvel ka sabse sexy mast qalandar," which honestly is, hilarious!
While the three-year-old video focused on a proper plot involving lots of action, the latest one mostly involves Deadpool sightseeing in Lahore and taking pictures with fans. He is seen taking perspective photographs at Minar -e-Pakistan, stealing Fruto boxes from strangers and bananas from a fruit cart. He also eats salt-roasted corn from a thaila… without taking his mask off. Clever no?
You also need to see how people responded to the latest video, have a look!
People really appreciated the video!

The others thought it was really creative.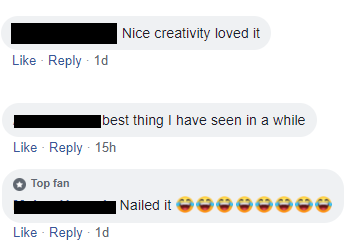 It really was lit!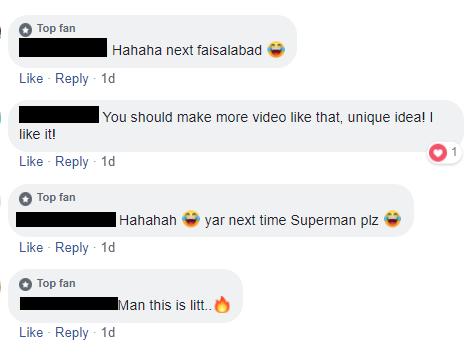 At the end of the video, Deadpool inquires from masses that where should he go next? So, what do you guys think? Faislabad? Some mazaar? It could be any place! Let's be creative and let the Pakistani Deadpool know what could he do next and let's pitch in some ideas to let him know!
Moreover, we're wondering if Ryan Reynolds actually saw the video (can someone please show him?) That would be a scene! Let us know what do you guys think of this article and share your feedback with us! Love you all.