The times when Pakistan lost the important matches to Australia are imprinted on my mind. I can never forget the times such as the 1999 world cup final where Australia crushed Pakistan; 2010 World T-20 semi-final when Hussey took away the match in last over from Pakistani cricket team; 2010 test series where Pakistan had chance to defeat Australia on their home trough but it was lost. It would kill me watching Australia beating Pakistan every now and then. The recent 221-run victory over Australia feels like a dream come true. Pakistan finally defeated Australia after 20 years, that's the reason for the joy and happiness for every cricket lover in the country.
The feeling of hopelessness and anger prevailed whenever Pakistani cricket team choked to Aussies.  I remember Steve Waugh regarded Bangladeshi batting line having more potential than Pakistani cricket team's batting line up. When the Younus scored 2 back to back centuries in the recent against Australia and becoming the first batsman ever since 1974 to have scored 2 centuries in the same match, I wished Steve Waugh as there and someone could do to him 'In your face". It wouldn't have been possible without the brilliant captaincy of Misbah-ul-Haq. Pakistani Cricket team has been led by few of aggressive and legendary captains in the past such as A.H Kardar, Imran Khan, and Wasim Akram. Misbah-ul-Haq conveniently makes to that list. But the way Misbah-ul-Haq brought the Pakistani cricket team out of the blues and making them a productive unit doesn't have precedence in the history of Pakistani cricket team. The management team led by Moin Khan, and the bowlers blessed with an opportunity to learn from Waqar Younis, killed the Aussies Kangaroos in the first test match.  Misbah-ul-Haq and Waqar Younis need to keep Pakistani cricket team focused for the next match.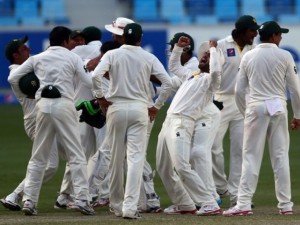 It was perceived that Pakistani cricket team won't be able to handle the Aussies bowling and strong batting in the absence of spinner Saeed Ajmal and Junaid Khan. Pakistani cricket team went with two of bowlers making their debut, Yasir Shah and Imran Khan, and both of them played instrumental role in crushing asutralia's batting attack. Moreover, other two bowlers Zulfiqar Babar and Rahat Ali having played mere 8 test matches before. Yasir Shah depicted the standard of talent present in Pakistan cricket as he took the major wickets in second test. Aussies doesn't seem to pick his leg breakers and straighter ones. Looking at Yasir Shah's potential, Shane Warne called him 'the best young leg spinner', that's the big achievement for young Yasir Shah hearing from king of leg spin. On other hand, Zulfiqar Babar used his 20 years of experience of domestic cricket to choke Australia out in the second innings by taking 5 wicket haul. We must not forget that the real Pakistani spin maestro was absent and, not only that, the regular fast pacers such as Umar Gul, Junaid Khan, and Wahab Riaz were not present in Pakistani cricket team as well. We were a vulnerable lot in bowling department with young inexperienced bowlers taking on lethal Aussie batsmen.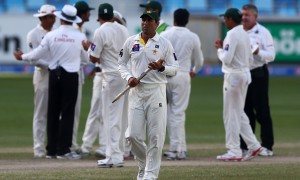 Talking about Pakistani cricket team's batsmen, most of them shone in the test match against Australia. They dominated the Aussie bowlers from the beginning. But, the way they played the spin on the turning track was commendable. It reminiscences of the legendary batsmen of Pakistani cricket team such as Inzamam-ul-Haq and Javed Miandad played Shane Warne, Ashley Giles, and Muttiah Muralitharan. The way Younus khan maneuvered the spinners with his classy sweep shots was just mesmerizing sight to watch. It was amazing to see the youngsters of Pakistani cricket team including Ahmed Shahzad, Azhar Ali, and Asad Shafiq used their feet against the spinners with great technique and, Nathan Lyon and Steve O'Keefe couldn't do much in front of them.
Younus khan's twin hundreds made him first man in 40 years to score double-century in a match against Australia. It was evident that Younus exclusion from ODI's was the biggest blunder on part of Pakistan Cricket Board. Younus silenced his critics through the memorable knock. He has always done that way. Young batsmen in the Pakistani Cricket team are lucky to have someone as experienced as Younus Khan to guide them. He is always seen bucking up boys on the field and shows the body language that is needed to take on massive Aussies.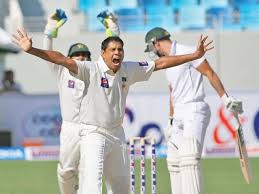 Ahmed Shahzad, Asad Shafiq, and Azhar Ali play sensibly and score more when they have Younus Khan on other side of the wicket. Younus impact on the Pakistani cricket team is huge and his inclusion in the cricket world cup 2015 is necessary for if Pakistan intends to perform well in it. Sarfaraz Ahmed has been phenomenal in the match, his century proved to decisive momentum-shifting innings. He often resembles Moin khan as he is very skillful in picking up singles and doubles by guiding the ball in the gap.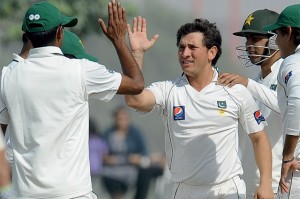 Pakistani cricket team thoroughly dominated the Aussies in the test match and the importance of this victory becomes manifold looking at Pakistani cricket team's history with Aussies and before the Cricket World Cup 2015. With the experience of Misbah-ul-Haq and Younus Khan, and perfect combination of top order and idle order batting including youngsters like Ahmed Shahzad, Asad Shafiq, Azhar Ali, and Sarfaraz Ahmed, the team looks well prepared to crush Aussies in the next test match. Not to forget, young Yasir Shah and shining Zulfiqar Babar are expected to haunt Aussies in the last test match. Pakistani Cricket team won its last test series two years ago against England. It's high time to register another victory and ensure our rule on home territory. The spirits are high, and Pakistani cricket team enjoys the edge over Aussies, so let's pull it off guys!