Arranged marriage is still a valuable privilege that parents hold for their sons and daughters in Pakistan. There is a big misconception that arranged marriages are bound to fail at some point. However, the majority of arranged marriages turn out to be successful. So many Pakistani celebs chose the traditional way to get married, did you know many of them had arranged marriage?
If a relationship fails, it has nothing to do with it being an arranged marriage. Even love marriages fail and that is a fact. Anyhow, here is a list that we have made of some of our favorite celebrities who had an arranged marriage and are content by the decision made by their families.
Sarah Khan
Oh yes! The newlywed Pakistani actress had the most adorable wedding of the lockdown. But did you know that she had an arranged marriage? It is hard to tell, right? Well, of course, with so much chemistry between the couple one might fool into thinking it was a love marriage.
When Sarah Khan announced that she got engaged to singer Falak Shabbir, people were enthralled because they were never seen together. However, later in an interview, Sarah revealed that it was completely arranged. Shabbir approached her family and that is where it all began.
Feroze Khan
Many of you might know of this. Feroze Khan, one of the most popular male actor got married two years back in 2018. In a luxurious wedding, the Tumse Mil Kay actor got married to Syeda Alizey Fatima Raza.
So basically, Feroze's sister Dua Malik liked Alizey for her brother. Turns out that she played the part of the matchmaker in his story. Alizey and Feroze's marriage was completely arranged. And the love between the couple is undeniable! Way too adorable. After all, arranged marriages that bad, huh?
Shahid Afridi
The legendary player of Pakistan cricket, Shahid Afridi, is ranked as one of the most charitable sports personalities in the world. Did you know that he is one of those few cricketers who have a huge female fan following? Even we just discovered that. LOL!
Anyhow, in an interview, Pakistani's Boom Boom revealed that his wedding was a completely arranged one. The cricketer had never even met his wife before the wedding. So here goes another example of successful arranged marriage for you.
Nimra Khan
Among the many other celebs to have intimate weddings during the lockdown was Nimra Khan. The Mein Jeena Chahti Hoon actor put us in real shock after revealing her wedding news.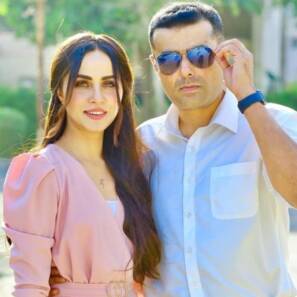 After her wedding, Nimra disclosed that her husband is a police officer in London and it was an arranged marriage. Such a cute couple!
Fahad Mustafa
The Pakistani film and television actor, Fahad Mustafa is widely known for his talent. Some of you might not know this but the actor struggled a lot to secure the position in media industry on which he is now. Also that he got married at a very early age.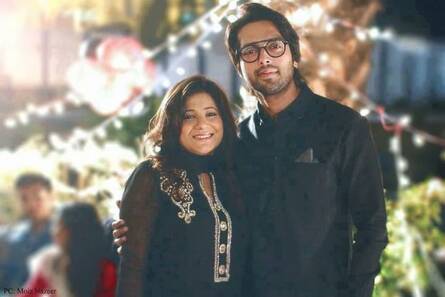 In 2005, The Jeeto Pakistan host tied knots with his wife Sana Fahad who stood by his side through out his career. Fahad Mustafa's marriage was also an arranged one. And the couple now have a son and a daughter together. Yet another successful arranged marriage, MA!
Arij Fatima
Arij Fatima, the television actor, made her acting debut with a leading role in the TV serial Kis Din Mera Viyah Howay Ga 2, and subsequently gained success. The actress had an unsuccessful love marriage at first after which she opted for an arranged marriage.
Her second husband was the choice of her family, and evidently, both are living a successful and happy married life. Hence, it is not always important to get married to someone you love. At times you fall in love with them after you marry them.
Whereas the new generation considers arranged marriage an archaic tradition and is more inclined towards love marriage. It is not necessary that they always work out. Having an understanding with the person you are going to marry is surely important. However, it can also be done with the passage of time once you get married.
These Pakistani celebs have proven that arranged marriages do not always fail. In fact, they turn out to be as successful as love marriages. After all, you can always fall in love after marriage, as proven by these celebs.
What do you think of this story? Let us know in the comments section below.