Babar Azam viral nets video is spreading all over the internet like fire. Pakistani skipper and cover-drive master Babar Azam once again captured everyone's attention.
But this time not he's in a different avatar where he's fully animated with dialogues and aggression.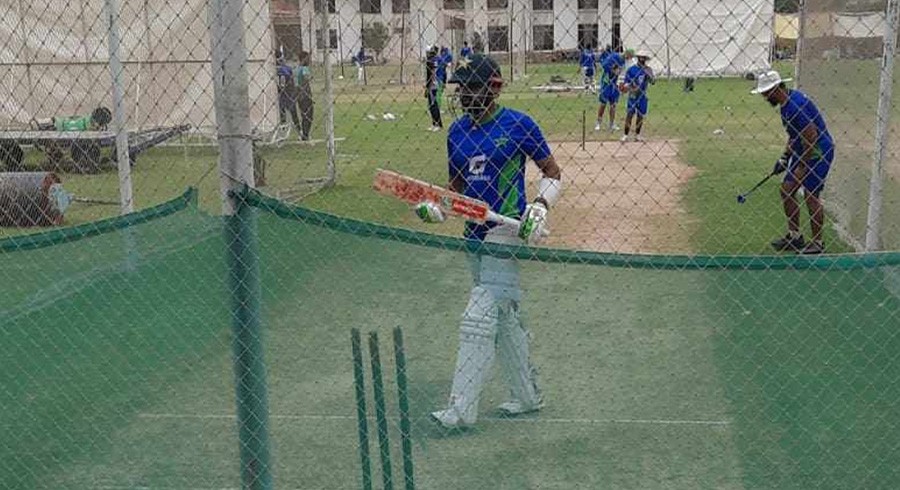 Pakistan has named a 16-member squad for the two-match Test series against Sri Lanka, which also marks the return of Shaheen Afridi in the international arena.
Pakistan cricket team's preparations are in full swing with the ultimate rhythm, on Tuesday fans even got the chance to look at Pakistani captain Babar Azam in the nets.
In the video, you can witness his uncensored conversation with the bowler.
Babar Azam Viral Nets Video
In the video you can see, Babar Azam is full-on batting mode, hitting the ball in all 360 directions and even commanding the bowler to surprise him with the bouncer.
The video starts with Babar saying "Allah" just after leaving a ball outside the off-stump. He then follows it up by timing the ball perfectly toward covers, after which the Pakistan skipper says, "Babar day bachay!"
Babar Azam uncensored during the the practice session 🗣️

'Babar day bachay' , 'Oye Lala' , 'Pooch ke thori bouncer karaingay'

Video courtesy: @zaidhassan89 #SLvPAK #BabarAzam pic.twitter.com/eSmCNfIQfv

— Cricket Pakistan (@cricketpakcompk) July 11, 2023
The 1-minute, 28-second film features Babar at his most impassioned, as evidenced by the loud displeasure he lets out after mistiming a length ball that is way outside the off-stump.
Back in May, Babar Azam scored the fastest 5000 ODI runs and broke another World Record. He's the top ODI batsman in the ICC ranking.
Haye Haye, Babar Azam
We can also see him appreciating his shots by saying "Haye Haye" or the "oye lala" remark after pulling a short delivery towards square leg.
He then engages in a chat with the person giving throwdown, asking him "Bouncer apni marzi se maro," before adding "woh poochke thori karaienge (the opposition won't ask me before bowling a bouncer.)"
Babar Azam recently joined Colombo Strikers for the upcoming LPL season. No doubt, Babar Azam showed the world his class in all formats.
Right now, he's an inch closer to reclaiming his first position in the ICC Test men ranking.
What do you think of the story? Tell us in the comments section below.